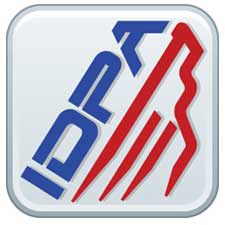 BERRYVILLE, Ark. –-(Ammoland.com)- Rob Lacroix outpaced Dave Dolio by just 1.01 seconds to claim the Stock Service Pistol division title this past weekend at the Smith & Wesson Live Free Or Die State IDPA Championship.
Lacroix, who is a Master in the division, won four of the 13 stages and finished with a final time of 280.78 seconds with 86 points down. Dolio won six stages before finishing first Master with 281.79 (83). His second place finish also gave Dolio the win in the King of New England series.
"The SSP battle was a tight match up at the Live Free Or Die, with Rob narrowly holding off Dave to take the title. ON behalf of everybody at the Pioneer Sportsmen Club I want to congratulate Rob on a job well done," said Ken Lambert, match director for the Smith & Wesson Live Free Or Die.
Rounding out the top five were Brian Steskla in third with 286.65 (57), Mason Lane, first Expert and High Junior winner, in fourth with 316.67 (72), and Lee Adams, who took home High Military Veteran with his final time of 329.48 (106).
Elsewhere in the division, Albert Chin took first Sharpshooter with 366.31 (128). Tara Lyon added to her list of IDPA accomplishments this season with both the High Lady, 491.65 (151), and the Queen of New England titles. Daniel Veiner finished first Marksman with 493.79 (164). High International went to Jaime Carmichael of Nova Scotia with 534.42 (97), and Ralph Berrett placed first Novice with 686.45 (277).
The sold out 2013 Smith & Wesson Live Free Or Die State IDPA Championship took place October 18-20 and was hosted by the Pioneer Sportsmen Club in Dunbarton, N.H.
The match was sponsored by a number of firearms industry leaders, including Apex Tactical Specialties, Comp-Tac Victory Gear, iMarksman, New England Tactical, RangeLog, Ruger, Safariland, SIG SAUER, Taurus and Smith & Wesson, the title sponsor of the match.
For more information on IDPA, or to join the more than 22,000 members competing each week all across America, visit www.IDPA.com.
You can further connect with the IDPA community through IDPA's social media, such as @OfficialIDPA on Twitter and ShootIDPA on Facebook, Instagram, Pinterest and Tumblr, or check for regular news and updates on the organization's DOWN ZERO Blog.