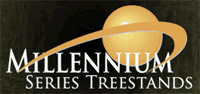 Pearl, Mississippi –-(Ammoland.com)-  The Millennium L200 and L220 18-foot double ladder stands are large and spacious enough for you and your best buddy, whether he or she is an adult or a youngster.
These buddy stands are designed for extreme comfort with ComfortTech seats, adjustable shooting rails and folding foot rests, making all-day hunting a breeze.
The double-ladder rails provide more support and eliminate any sway in the stand as you climb up or down, making both of these stands easier and safer to set up than single-rail stands.
These double ladder stands measure 18 feet from base to the back blade, giving you the height you need to make the shot you want. The stands have weight ratings of 500 lbs., allowing two full-grown adults to hunt together.
The L220 stand features a convenient over-sized platform that provides hunters the space they need for adjustment before folding down the seat.
For top-of-the line comfort and durability in a stand built for two, consider Millennium's L200 or L220 ladder stands.
For more information on Millennium L200 and L220 double ladder stands, check out https://millenniumstands.com.
About Millennium Stands
Millennium Stands have long been recognized as the most comfortable stands on the market. From Texas to Alberta and South Carolina to Idaho, outfitters and guides know the best way to increase your chances in seeing a trophy animal is to sit in a prime location from sun up until sun down.
Millennium stands are engineered for that purpose – to be the most comfortable and quietest stands period. Every angle, hinge and weld has been tested under the most extreme conditions by the most cynical and scrutinizing hunters. Each Millennium is the best compromise of weight, quietness, strength, security and comfort for its intended use.