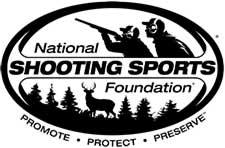 NEWTOWN, Conn –-(Ammoland.com)- For shooting range owners and operators, your last chance to attend a National Shooting Sports Foundation Lead Management and OSHA Compliance Workshop this year will be December 8-10 in San Diego, Calif.
The most recent workshop, held in New Orleans and sponsored by Western Range, Gold Coast Armory and American Air Filter, was filled to capacity, demonstrating the high level of interest by industry professionals in learning how to protect their businesses.
"This workshop is an educational opportunity that can literally save your business," said Zach Snow, NSSF manager of shooting promotions.
Snow emphasizes that point because shooting ranges can be exposed to a number of liabilities, particularly in the areas of health and environment. The best way to eliminate or minimize liability exposure is to effectively manage your business and to make sure management and staff are educated, prepared and proactive in complying with the regulations applicable to shooting ranges. Failure to do so exposes a range to significant fines and penalties, cleanup costs and potential criminal prosecution.
Those attending NSSF's Lead Management and OSHA Compliance Workshop will benefit from a team of experts that has hands-on experience in the fields of environmental law related to shooting ranges, OSHA compliance and inspection, and lead reclamation and range maintenance. Your eyes will be opened to what can happen if a range fails to comply with regulations. These experts will provide you with recommended compliance strategies to protect your business for many years to come.
Should I test my staff's blood lead levels? If so, which ones and how often? How do I properly dispose of certain products such as rags used to clean the range, pre-filters and HEPA filters? How can I recycle certain items, and what steps do I need to take when a recycler comes to pick up products such as lead, brass and filters? The two-day workshop will address not only these questions but also a variety of other important topics that will better prepare you for the road ahead.
Topics that will be covered include:
Case Study – Welch Group Environmental
Compliance
Environmental Protection Agency (EPA) and the Occupational Safety and Health Administration (OSHA) … The clock is ticking, BE PREPARED
Elements of Management Safety and Health Plan
OSHA Enforcement and Penalty Structure
Medical Surveillance and OSHA Record Keeping
Hazard Communication
Best Management Practices for OSHA Compliance
Environmental Laws and Regulations Applicable to Gun Ranges
Learn more about NSSF's Lead Management and OSHA Compliance Workshop December 8-10 in San Diego at the Hilton San Diego Airport-Harbor Island and register at this website: http://nssf.org/ranges/ComplianceWorkshop/hotel/. Questions about the workshop can be directed to Zach Snow at [email protected]
A special group rate of $129 per night is available until November 8. Reservations after that date will be subject to the hotel's prevailing rate. NSSF schedules only a few workshops each year on this topic, with the next one not until May 2014, so take advantage of the San Diego workshop if you can.
About NSSF
The National Shooting Sports Foundation is the trade association for the firearms industry. Its mission is to promote, protect and preserve hunting and the shooting sports. Formed in 1961, NSSF has a membership of more than 8,000 manufacturers, distributors, firearms retailers, shooting ranges, sportsmen's organizations and publishers. For more information, visit www.nssf.org.