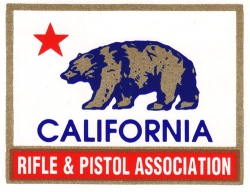 Sacramento, CA –-(Ammoland.com)- California Rifle & Pistol Association announces that they have added three guest headliners to the ticket from the November 2013 Fundraising Banquet.
Those guests include Chris Cheng, Chuck Michel & Kim Rhodes!
Partners of CRPA Fundraising Banquet
Presented by Los Angeles Rifle & Revolver Club
Saturday, November 23, 2013
6pm-10pm
The Phoenix Club
1340 S. Sanderson Avenue
Anaheim, CA 92806
Adult $60 – Child (under 13) $30
Buy Tickets
Plan to join us for an evening of fun, including a delicious dinner buffet, live auction, silent, auction, raffles, games and more. You'll have a chance to win great firearms, knives, hunts, and gear… all benefiting the CRPA Foundation!
Corporate tables of eight are available at $600 per table. These sponsorships will be included in the event program and recognition given from the podium as well. For additional information contact (800) 305-2772.
ABOUT CHRIS CHENG
Chris Cheng is History Channel's Top Shot Season 4 Champion. Cheng worked for Google, Inc. from 2007-2012 in many capacities, primarily in technical support for Google Apps, as well as a product lead in Google.org's Google for Nonprofits Program. Chris served on the GoogleEDU leadership faculty where he trained teams and individuals on interpersonal communication and the fundamentals of leadership. He left Google in June 2012 to pursue his professional marksman contract full time.
He is currently touring Bass Pro Shops across the country interacting with customers and fellow shooters; shooting in 3-gun, USPSA, IDPA, and IPSC competitions, writing a book, and working with the National Rifle Association on promoting the shooting sport. Cheng is a Lifetime member of the National Rifle Association. Cheng is a Staff Writer for The Firearm Blog where he writes about firearms and gear in his post-Top Shot experiences. His future career plans include running for public office.
ABOUT KIM RHODE
Kimberly "Kim" Susan Rhode was born on July 16, 1979 in Whittier, California . She is an American double trap and skeet shooter who is a five-time Olympic medal winner including three gold medals and six-time national champion in double trap. She is the most successful female shooter at the Olympics as the only triple Olympic Champion and is the only woman to have won two Olympic gold medals for Double Trap. Most recently, she won a gold medal in skeet shooting at the 2012 Summer Olympic Games, equaling the world record of 99 out of 100 clays.
Her storied career began at the tender age of 13, when she won her first world championship title in women's double trap shooting. She went on to win her first gold medal at the 1996 Summer Games in Atlanta, GA, making her the youngest female gold medalist in the history of Olympic shooting. At the 2000 Summer Olympics in Sydney, Australia she later won a bronze medal. Rhode extended her consecutive medal winning streak by winning the gold medal at the 2004 Summer Olympics in Athens.
Double trap shooting was eliminated from the Olympic games after Athens but Kim perservered as she concentrated on skeet. She traveled to her fourth Olympic games in 2008 to compete in Bejing where she went on to win the silver medal in women's skeet. She continued her record breaking streak at the 2012 London Olympics, Rhode won the gold medal in skeet shooting with an Olympic record score of 99, tying the world record in this event. Kim Rhode is the only American competitor to win medals for an individual event in five consecutive Olympics. She is the only woman to win three Olympic individual gold medals for shooting and one of three Olympians to ever do this at all.
ABOUT CHUCK MICHEL
Mr. C.D. Michel has long been recognized as one of the leading authorities on firearms law at both the state and federal level, and has played a significant role in defending and helping to shape 2nd Amendment Rights and legislation for over 2 decades. He has been instrumental in crafting some of the most important legal challenges to legislative efforts that impede gun rights guaranteed in the Constitution and represents may of the most prominent firearms organizations, including the National Rifle Association and the California Rifle and Pistol Association.
He has been profiled in recognition of his work in multiple periodicals, TV and radio interviews and has published extensively regarding firearms law. He is a regular commentator on the NRA's Cam & Co. and the Ginny Simone Reporting telecast and is a frequent contributor to national media discussions concerning 2nd Amendment Rights. He is an Adjunct Professor at Chapman University School of Law in Orange, California, where he teaches firearms law. He is the author of the book "California Gun Laws – A Guide to State and Federal Firearm Regulations" and is the CEO and Senior Partner at Michel & Associates, the largest firearms law firm in the U.S.
All proceeds will go directly to the CRPA Foundation
The CRPA Foundation together with the Los Angeles Rifle & Revolver Club have helped and continue to support Junior Olympic Shooters and the Wounded Warriors shooting team.
About:
The California Rifle and Pistol Association "CRPA," founded in 1875, is dedicated to defending the rights of law-abiding citizens to responsibly use firearms for self-defense and the defense of their loved ones, for sport, and for all other legal activities. CRPA is the official state association of the National Rifle Association. A California non-profit association, CRPA is independently directed by its own Board of Directors. CRPA's members include law enforcement officers, prosecutors, professionals, firearm experts, the general public, and loving parents. CRPA has always worked to reduce the criminal misuse of firearms and firearms accidents, while actively promoting and organizing the competitive shooting sports and Olympic training programs in California. We are proud to say that many CRPA competitors are among the best in the world. Visit: www.crpa.org