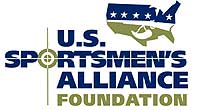 Columbus, OH –-(Ammoland.com)- As reported in April by USSA, the People for the Ethical Treatment of Animals (PETA) announced that they have officially obtained drones to stalk hunters in the field.
"PETA Air Angel's" as they are referring to them, were reported today by PETA to have been taken on a test flight in Massachusetts and "went off without a hitch."
The drones will be sold in PETA's catalog for $324.99. According to the drone description found in the catalog, PETA members can receive instant to-your-phone video footage from the drones. The footage can be streamed live via the Air Angels page on PETA.org.
PETA says they aim to specifically seek out hunters "drinking while in the possession of a firearm, injuring animals and failing to pursue them so that they die slowly and painfully, and using spotlights, feed lures and other hunting tricks". As all of us know, these are things hunters simply do not do.
What we also know is that this is just another in the long line of ridiculous, attention-seeking activities concocted by arguably the country's most outrageous animal rights group.
About:The U.S. Sportsmen's Alliance is a national association of sportsmen and sportsmen's organizations that protects the rights of hunters, anglers and trappers in the courts, legislatures, at the ballot, in Congress and through public education programs. Visit www.ussportsmen.org.