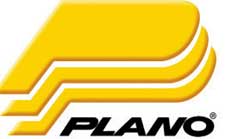 Plano, IL –-(Ammoland.com)- Whether a bird hunter, sporting clays aficionado, or trap or skeet enthusiast, all who share the passion for shotgunning sports must sometimes feel like Goldilocks when it comes to taking care of their gear.
There's definitely a lot of "this box is too big" and "this one is too small" when it comes to storing and caring for shotshells.
Well, thanks to the big bear of the gear storage category, Plano, there is now the perfect field box to accommodate four boxes of shotgun shells.
Plano's new shotshell field box model 121202 is just right to accommodate four boxes of shotshells side by side. It's the newest member of Plano's proven field box family patterned after the old military-style ammo boxes, but with a few noteworthy differences. For starters, the box features high-impact injection molded construction. That means it is lighter and won't rust. The Plano boxes are much easier to open and close. And they come with a water resistant O-ring seal to help protect contents against the elements.
The 121202 shotshell box measures 13.625" x 5.625" x 5.625", meaning length, height and width are made specifically for this job. The box's wide latch with brass bail provides positive closure, and it can be locked with a padlock. Its large handle on top folds down to make a flat surface for easy storage with stacking capabilities.
The Plano shotshell box is green and retails for less than what a box of shotgun shells usually costs.
Shop for the Plano Shotshell Field Box on Amazon: http://tiny.cc/fp3r5w
PLANO FISHING
A tradition of excellence. Owning a Plano® tackle box has become a heritage that has endured for more than half a century. In 1952, Plano introduced the first molded plastic tackle box. For the next fifty years, the Plano brand found its way into the hearts and hands of four generations. Today, there's a 4 in 5 chance that if you own a tackle box, it was made by Plano. There are many reasons why consumers choose Plano, including quality, durability and innovation, but our favorite is "It's what my dad always used."
PLANO HUNTING
Innovation and quality are the traits that have become associated with the Plano® brand. Thousands of hunters and shooters have come to trust Plano for the storage of their firearms, bows and hunting accessories. Since 1952 Plano has been supplying outdoor enthusiast with storage solutions that allow them to make the most of the time they have outdoors. http://www.planomolding.com/category.php?CID=1