Produced By Smith & Wesson and engraved at the S&W Custom Shop, the commemorative revolvers are only available to FOP members and family.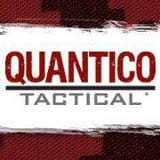 QUANTICO, VA – -(Ammoland.com)- Quantico Tactical, a leader in sourcing and supplying performance-proven apparel, equipment and firearms to law enforcement, government agencies, military and private citizens, is proud to offer, for a limited time, a Fraternal Order of the Police (FOP) Smith & Wesson Model 10 .38 Special +P revolver in celebration of the FOP's 100 years.
The FOP program is restricted to FOP members (family may purchase as a gift with verification of recipient's membership).
The Quantico Tactical FOP commemorative S&W Model 10 features custom engraving on the blued carbon steel frame and 4-inch barrel. The S&W Model 10 is a single/double action revolver with a 6-round capacity, black blade front sight and fixed rear sight.
The overall length is 8.875 inches and it weighs 36 ounces. Nicely checkered wood grips complete the commemorative model. The FOP models have a unique serial number.
A limited Edition Commemorative Display case is also available as an option. The Quantico Tactical FOP Commemorative S&W Model 10 .38 Special +P revolver is available at Quantico Tactical for $694 and the optional display case is $130.
The price includes delivery to the FFL holder or police department. This special program will run through the 2015 FOP Convention in Pittsburgh, Pennsylvania.
To find out more about the FOP Commemorative S&W Model 10 revolver, visit www.quanticotactical.com/FOP/.
To become a part of the Quantico Tactical conversation, visit us on Facebook www.facebook.com/quanticotactical or on Twitter at https://twitter.com/QT_JC.
About Quantico Tactical:
Quantico Tactical is the premier source of performance apparel, gear, tactical medical supplies, armor and firearms for federal agencies, law enforcement, military and the serious adventure enthusiast.  Since its founding in 2001 by a retired US Marine Officer, Quantico Tactical® has grown from a small shop in Quantico, Virginia to seven retail stores around the United States and a state-of-the-art headquarters, distribution center and kitting facility which service customers  world-wide.  Quantico Tactical's retail locations include; Quantico, VA; Woodbridge, VA; San Diego, CA; Oak Grove (Ft. Campbell), KY; Killeen (Ft. Hood), TX; Junction City (Ft. Riley), KS; and Lakewood (Ft. Lewis), WA.   Quantico Tactical is a Service Disabled Veteran Owned Small Business (SDVOB) providing many popular brands on the GSA Schedule. Quantico Tactical is US State Department licensed for the export of weapons, munitions and related articles. www.quanticotactical.com.