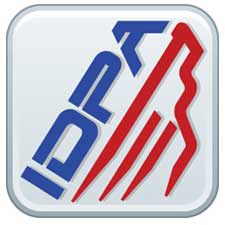 BERRYVILLE, Ark. –-(Ammoland.com)- With nine of 13 stage wins, including posting the fastest overall time on eight of them, Ed Stettmeier dominated the Smith & Wesson Live Free Or Die State IDPA Championship to win the Enhanced Service Pistol title.
Stettmeier, a Master level shooter, finished the match with a final time of 215.68 seconds with 38 points down. In addition to earning the ESP title he also collected High Industry honors.
"Ed's was the standout performance of the match and he made what was a difficult course of fire for most look easy," said Ken Lambert, match director for the Smith & Wesson Live Free Or Die.
Second place and first Master went to Team Panteao's Tom Yost who won one stage before posting a final time of 258.82 (49). Yost captured High Senior as well as the ESP title in the King of New England series.
Third place in the match went to Joe Linskey of team Wolff Gunsprings/Tactical Defense Solutions who also won one stage finishing in 264.10 seconds. Linskey's 26 points down earned him the match's Most Accurate title. He also picked up the High Law Enforcement title.
Rounding out the top five were David Girardin with two stage wins and a final time of 266.31 (115), followed by Nick Bedio who finished first Expert with 281.56 (68).
Elsewhere in the division, Terrance Robertson, an ESP Master, won High Distinguished Senior with 308.85 (110). Lance Boehlke finished first Sharpshooter with 352.82 (108). The U.S. Coast Guard's Chad Barber took home High Military honors with 413.18 (79) competing as a Sharpshooter. Pasquile Vitetta Jr. finished first Marksman with 442.25 (123). Sandy Lincoln, the division's only Novice, finished with 929.97 (360).
The sold out 2013 Smith & Wesson Live Free Or Die State IDPA Championship took place October 18-20 and was hosted by the Pioneer Sportsmen Club in Dunbarton, N.H.
The match was sponsored by a number of firearms industry leaders, including Apex Tactical Specialties, Comp-Tac Victory Gear, iMarksman, New England Tactical, RangeLog, Ruger, Safariland, SIG SAUER, Taurus and Smith & Wesson, the title sponsor of the match.
For more information on IDPA, or to join the more than 22,000 members competing each week all across America, visit www.IDPA.com.
You can further connect with the IDPA community through IDPA's social media, such as @OfficialIDPA on Twitter and ShootIDPA on Facebook, Instagram, Pinterest and Tumblr, or check for regular news and updates on the organization's DOWN ZERO Blog.