This event is 2A FlashMob Approved, anyone attending will automatically qualify for their own FREE 2A Mob Patch.
Members of the Young Americans for Liberty Chapter at SUNY Albany to host pro-gun Demonstration on SUNY Albany Campus.
Albany, NY –-(Ammoland.com)- Students at SUNY Albany on October 15th 2013 at 10:00am will be hosting a large pro-Second Amendment Rally on Collins Circle with an anticipated attendance of over 500 activists.
The Young Americans for Liberty chapter is going to take the campus by storm as distinguished speakers such as Assemblyman Steve McLaughlin, Assemblyman Steve Katz along with many others will fill up Collins circle to stand for the Second Amendment, fight the SAFE Act and go against the anti-gun agenda of Governor Cuomo.
The Rally is the kickoff event of "Second Amendment Week", which is a week long series of pro-gun activism events being hosted by SUNY Albany Young Americans for Liberty.
Second Amendment week consists of:
October 15th 2013- "Right that Secures them All Rally" featuring Assemblyman Steve McLaughlin, Assemblyman Steve Katz and many other Conservative speakers. 10:00am Collins Circle
October 16th 2013- "Women's Right to Self Defense Day" featuring Conservative Activist and blogger Kathryn DeLong. 7:00pm Education building room 125
October 17th 2013- "Second Amendment Panel" with Assemblyman Steve McLaughlin and Assemblyman Marc Butler. 7:00pm Lecture Center 17.
The YAL chapter at SUNY Albany was formed in 2012 and has grown to 45 active members. They hope to grow their base through this massive activism project and undertaking. Media representatives are invited and welcome to cover the event.
"Hello fellow patriot, my name is Skyler DeAngelo and I am the President of SUNY Albany Young Americans for Liberty and current YAL State Chairman. Our organization will be holding a pro Second Amendment Rally at our school on October 15th 2013 at 10:00am on the area called Collins Circle, which is at the entrance of the school if entering on Washington avenue."
We have speaking currently:
Keynote Speaker: Assemblyman Steve McLaughlin
Assemblyman Stephen Katz
President of SCOPE Stephen Aldstadt
Republican Committeeman 113th Assembly District Robert Arrigo
Liberty Activist David Andrew Gay
Albany County Legislator 39th District Deborah Busch
UA YAL Public Advocate Randy Purdy
UA YAL President Skyler Forrest DeAngelo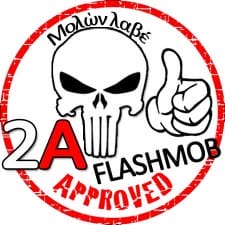 Also here is the Facebook and website for the event:
https://www.facebook.com/events/203876616452508/
http://www.rightthatsecuresthemallrally.com/
Thank you so much!
About 2A Flashmob: 
In an effort to motivate gun owners and Second Amendment Supporters to show up in person at important events and rallies AmmoLand Shooting Sports News is giving away FREE 2A Flashmob Patches to anyone who attends a protest, rally, open carry event, committee hearing at your state capital or a Moveon.org counter protest. (You may already be eligible)
Spread the word, get out, get active!