Texas Triggers launches a new online store featuring several steel targets from Action Target.
Provo, Utah –-(Ammoland.com)- Texas Triggers, a shooting experience ranch located in Sonora, Texas, recently became Action Target's newest dealer with the launch of its online store.
Reid and Colby Donaldson, the brothers who own the ranch, have used Action Target steel targets for years and are now looking to turn Texas Triggers into a household name with tactical gear and shooting accessories.
Hop's General Store (http://www.texastriggers.com/hops_general_store), as it's named, features clothing, gun parts and accessories, survival gear, knives and six Action Target steel targets with plans to include the entire catalog of products in the near future.
"Texas Triggers is proud to use Action Target portable targets as part of our Ultimate Shooting Experience," Texas Triggers General Manager Reid Donaldson said. "Action Target has been a great partner, and as we expand, they will be an integral part of our growth."
Texas Triggers began in 2011 when Reid's brother, Colby Donaldson (host of Top Shot and Top Guns), realized that all of the targets that were used for the first few seasons of Top Shot were just sitting in storage. After purchasing the targets from the show's target engineer, Reid, Colby and their mother, Gay, created the Texas Triggers Ultimate Shooting Experience on their family's ranch.
The ranch now offers one-, two- and three-day shooting experiences that include expert one-on-one instruction, Top Shot shooting scenarios and range time with the dozens of weapons in the Texas Trigger arsenal.
Along with various Top Shot custom targets, the shooting challenges incorporate Action Target's PT Hostage, PT Rocker, PT Dueling Tree, PT Plate Rack and PT Torso, all of which are available for purchase through the Texas Triggers online store.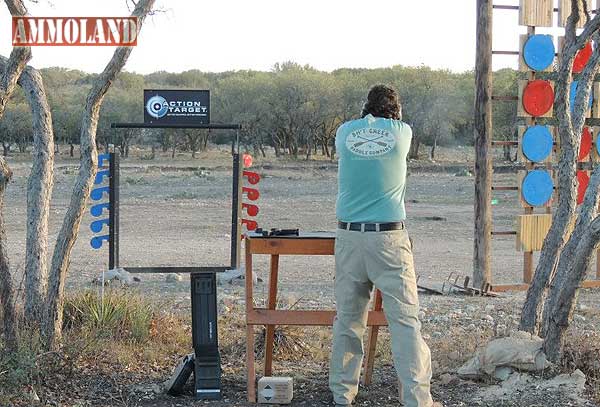 About Action Target Inc.
Action Target Inc. is a privately owned business headquartered in Provo, Utah. As a world leader in shooting range technology with more than 4,000 products and 40 patents for the systems it designs and manufactures, Action Target has installed thousands of shooting ranges across the United States and in 25 other countries around the world. Action Target also designs systems and conducts firearms training for law enforcement and various military divisions. For more information on Action Target, visit www.ActionTarget.com. To learn more about Action Target products or to purchase items online, visit www.ActionTarget.com/store.