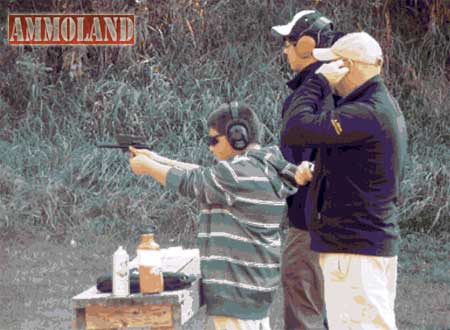 MORRISVILLE, Vt. –-(Ammoland.com)- The weather this past Saturday could not have been better for the Vermont State Rifle and Pistol Association (VSRPA) as the organization held its annual Rimfire Steel Fundraiser to benefit the University of Vermont Shooting Sports (UVMSS) and the Vermont Junior Shooting Sports Association.
Utilizing the four stages from the Scholastic Pistol Program (SPP), not only did the match raise funds for a good cause but also raised awareness of SPP and how juniors can participate in matches and learn a new sport. Because of this tie in, junior competitors were treated like the "Pro's" at the big matches. And thanks to the generous sponsors each received a "match swag bag" filled with everything from hats and shirts to USB memory sticks.
All staffing for the match was supplied by members of the UVMSS's Shotgun and Pistol teams so the competitors only had to load magazines and enjoy a beautiful afternoon of shooting. The UVMSS Pistol Team, which competes at the collegiate level in the SPP, provided experienced members, and coaches, to assist new shooters and those new to the competition format.
So not only did the adult competitors come out to support the cause for junior shooters, but local groups, clubs and companies. The club hosting the match, Lamoille Valley Fish and Game Club, and the Green Mountain Practical Shooters, helped out too with equipment and the use of their ranges for the day especially during the busiest time of the year when their members are looking to sight in for the up coming hunting seasons. Local firearm's company, Caspian Arms donated to the cause.
Gary Smith from Caspian, "We heard about the match and felt that supporting it was great to help the junior shooting sports in Vermont."
It was not only local Vermont organizations that helped out, but companies like Glock and Smith and Wesson too. Both of these companies are founding partners of the SPP. Along with them, the VSRPA and the UVMSS would like to thank the other sponsors that included FNH-USA, Ocra Coolers, Warne Scope Mounts, Blade-Tech Industries, Revision Military, and ATI Gunstocks.
The full list of scores for the match will be posted on the VSRPA and UVMSS' websites soon. For more information, contact Michael MacDuff, V.P. Handgun Sports, VSRPA at [email protected]