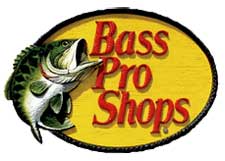 Springfield, MO –-(Ammoland.com)- Bass Pro Shops, a leading retailer of hunting, fishing, camping and other outdoor equipment, is once again showing its patriotism and support for the brave men and women in uniform by hosting fundraising months for two military-related organizations.
This November and December, Bass Pro Shops is providing a donation program for the USO and AMVETS at its stores across the country. During these months, Bass Pro Shops will promote these organizations and provide fundraising opportunities for them.
"For AMVETS, partnering with a respected, patriotic company such as Bass Pro Shops helps us engage the public and bring increased support for our returning veterans," said Stewart Hickey, AMVETS national executive director.

"All proceeds derived from our partnership will be used to assist in employing veterans, supporting our Warrior Transition Workshops, which focus on those struggling with combat stress and readjustment issues resulting from one or more deployments, and assisting our nation's homeless veterans, who served their country and deserve to have a safe, and comfortable place to call home."
During November and December, Bass Pro Shops stores throughout the U.S. will offer customers an opportunity to donate $1, $3 or $5 to AMVETS or the USO. In the last five years, Bass Pro Shops helped raise more than $950,000 on behalf of USO and AMVETS.
"For many of our troops serving far from the comforts of home, it's the small moments they miss most, like hearing the voice of a loved one, reading a good book or enjoying a favorite snack," said USO SVP and Chief Development Officer Kelli Seely.

"A donation from Bass Pro Shops and its customers will support the USO's USO2GO program, which allows us to lift the spirits of troops serving in remote areas. From toiletries and board games to bean bags that provide a comfortable place to relax, USO2GO delivers touches of home we often take for granted but mean so much to our troops. We're grateful to partners like Bass Pro Shops who are committed to helping us make every moment count for our service men and women wherever they are serving."
Bass Pro Shops has a history of honoring our men and women in uniform in a variety of ways and that dedication starts right at the top with Johnny Morris, the company's founder and CEO. For his contributions and support of the military, the National Infantry Foundation and the Chief of Infantry of the United States Army awarded Morris the prestigious Civil Level Order of Saint Maurice.
Other ways that Bass Pro Shops contributes to our servicemen and women includes hosting Military Discount Days, which start the 15th of every month and last one week.  During that time, active duty and retired military can receive a 10 percent discount off regularly priced merchandise (some exclusions apply) by presenting a valid military identification card. In November, Bass Pro Shops celebrated Veterans Day by beginning Military Discount Days on Nov. 11. To find the closest Bass Pro Shops store, visit: http://www.basspro.com/stores.
The USO, a private, nonprofit organization, lifts the spirits of troops and their families through highly valued programs, morale boosting services, engaging entertainment and more than 160 locations worldwide. It also provides critical support to those who need the organization most, including deployed troops, military families, wounded, ill and injured troops and their caregivers and families of the fallen. More than 27,000 USO volunteers around the globe do everything possible to provide a home away from home for our troops and their families.
The mission of AMVETS, which is chartered by Congress, is to enhance and safeguard the entitlements for all American Veterans who have served honorably. AMVETS also strives to improve the quality of life for them, their families, and the communities where they live through leadership, advocacy and services. The helping hand that AMVETS volunteers extend to veterans and their families takes many forms.
About Bass Pro Shops
Bass Pro Shops, which specializes in outdoor fun, operates 81 retail stores and Tracker Marine Centers across America and Canada that are visited by more than 116 million people every year. Bass Pro Shops' stores, many of which feature restaurants, offer hunting, fishing, camping and other outdoor gear while their catalogs and website serve shoppers throughout the world. The company's Tracker Marine Group (http://www.trackermarine.com), which has produced the number one selling brand of fishing boats for more than 35 years, manufactures and sells a variety of boats for fishing and cruising. Family fun is on tap at Bass Pro Shops' resort Big Cedar Lodge® (http://www.bigcedar.com), voted number six by Travel + Leisure Magazine as World's Best Hotels for Families. For more information, visit http://www.basspro.com.  To request a free catalog, call 1-800-BASS PRO.  Follow us on Facebook at http://www.facebook.com/bassproshops.
About the USO
The USO lifts the spirits of America's troops and their families millions of times each year at hundreds of places worldwide. We provide a touch of home through centers at airports and military bases in the U.S. and abroad, top quality entertainment and innovative programs and services. We also provide critical support to those who need us most, including forward-deployed troops, military families, wounded warriors and families of the fallen. The USO is a private, non-profit organization, not a government agency. Our programs and services are made possible by the American people, support of our corporate partners and the dedication of our volunteers and staff. For more information, visit http://www.uso.org/.
About AMVETS:
A leader since 1944 in preserving the freedoms secured by America's armed forces, AMVETS provides support for veterans and the active military in procuring their earned entitlements, as well as community service and legislative reform that enhances the quality of life for this nation's citizens and veterans alike. AMVETS is one of the largest congressionally-chartered veterans' service organizations in the United States, and includes members from each branch of the military, including the National Guard and Reserves. To learn more visit www.AMVETS.org.