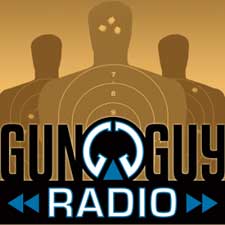 DeKalb, IL –-(Ammoland.com)- Jared Auchter (Firearms Insider Community) and Ryan Michad (Handgun Radio Podcast) join Jake Challand on this week's panel on Gun Guy Radio.
Ryan has been prolific in posting revolver and pistol reviews on the Firearms Insider Forums, but the Firearms Insider Community is still looking for more gun and gear reviews from gun enthusiasts outside of the Firearms Radio Network.  Email Mike the Director of firearmsinsider.tv for your chance to be part of the discussion at [email protected]
The main topic of this week's show is concealed carry in colder weather.  Ryan, the most experienced daily carrier of the panel, notes;
"You've got to think about how the weather affects the way other people dress because because that can affect the bullet performance. But then how you dress can affect what kind of gun you carry."
Cold weather can affect everything about how you conceal a handgun from the type of holster to the location of the gun itself. Jake notes the importance of purchasing high quality holsters and gun belts. Ryan points out that ammunition choices are incredibly important because of the relatively low velocity of handgun rounds and the possibility for lack of expansion in many hollow points. The guys discuss these and a lot of others in this week's episode and, while recognizing that most concealed carry issues are highly personal, give us all many things to consider as the temperatures fall.
 Jake says, "My goal with this episode is to get you thinking and to be a little more intentional about choosing rather than just throwing your everyday carry kit together."
Paul Levy of Brownell's returns for his regular Product Spotlight segment and this week shows us Space Age Weaponry's Deployable Compact Armorer's Tool.  This tool, which is designed to primarily work on AR-15s and M16s, includes 30-40 separate gunsmithing tools.
According to Paul, "It's great for any armorer's function or maintenance or while you're at the range." "Basically with this tool you can almost assemble an entire AR-15 if you had to."
Listen to the entire episode at www.gunguyradio.com/094/ or subscribe to the show on iTunes.  Visit the Firearms Insider Community at www.firearmsinsider.tv.
About Gun Guy Radio:
Gun Guy Radio is an on demand talk show that stays positive and leaves out the politics. The podcast features a variety of popular guests that cover a wide range of topics that firearms enthusiasts crave. Each episode delivers entertainment, education and encouragement that expands firearm ownership and knowledge to the current and next generations. Gun Guy Radio is found on the Firearms Radio Network and releases every Sunday at 12:00 pm central time. Subscribe to the email list and listen via Apple iTunes, Stitcher Radio or www.gunguyradio.com.