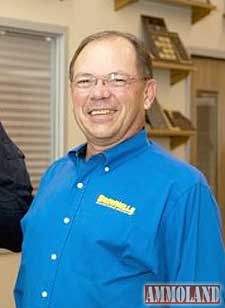 Des Moines, Iowa – -(Ammoland.com)- We got snow in northern Iowa this week – and I bought a new Farmer's Almanac.
Kinda afraid what is in the forecast for the winter. I know winter's coming – and some of you had a major blizzard already if you're in North Dakota.
Pheasant season starts this weekend, and the fall turkey and goose seasons are already underway along with bow season for deer, with shotgun season only a month-plus out. So, guess it ain't all bad…lots going on out there.
Plenty going on here at Brownells, too. Work is right on schedule on our new facility just off I-80 at the Grinnell, Iowa exit. Easy to get to if you're crossing the state on I-80. There will be lots of bally-hoo when we open, so we'll let you know when we're up and running. Really would like to have you come by and stop to visit. Going to be some really cool stuff going on.
We keep adding new products, too. The gang here is really excited about all the new emergency and survival gear we're getting in. Water purification, long-term-storage food, tents, sleeping bags, go-bags – you name it, we've got it in one convenient place on our website.
With all this preparedness stuff on my mind, I've been thinking about what would make the ideal emergency/survival rifle. A lot of folks would say it's the AR-15. I "favor them" as my grandma used to say. Quite an amazing platform. Maybe those folks are on to something…
The AR-15's military counterparts – the select-fire M16 and its compact off-spring, the M4 carbine – have been the standard-issue in all branches of our military, as well as many police and security agencies, for decades. Something that's not going to change any time soon. What makes it popular for military use ‒ compactness, maneuverability, light weight, high ammo capacity ‒ make the AR-15 equally effective as a survival rifle. For several years now, it's been just about the best-selling gun in the U.S. Its overwhelming popularity with civilians and government alike means you're likely to find parts, ammo and accessories for an AR-15, no matter what might happen.
Of course, it's always a good idea to have spare critical parts for your rifle in your survival stash. And the AR's modular design means that just about anybody can swap parts and make changes to an AR-15 they might not be able to do on other firearms. For example, changing the barrel on an M14 or M1A is probably a gunsmith's job. Heck, but just about anybody can swap out an AR-15 handguard and mount all sorts of useful stuff like lights and slings onto it.
The AR-15 is also easy to shoot, so it's easy to teach somebody, who might not be familiar with guns, how to shoot one if they need to learn quickly. They don't kick much, and they're a heck of a lot of FUN, which encourages new shooters to practice. The smaller caliber means you can stash a whole lot of ammo in a relatively small space. The rifle itself can be broken down and stored in a small case or even carried discreetly, ready to go. So, whaddya think? Is the AR-15 is a great survival rifle, or what? Surely most of you agree with my logic above…
Speaking of the AR-15, our brand-new AR-15 Catalog #9 is in the mail right now. We held off putting it out for a while because the super-crazy demand earlier this year meant a lot of our AR-15 stuff was just plain sold out for a while. But that's changed! We've got what you want now for your AR-15. All sorts of goodies again!
Back at the beginning of this year, AR magazines were scarcer than hen's teeth because manufacturers just couldn't keep up with demand. We really ramped up production on our Brownells GI-style mags, and the other manufacturers followed suit. So if you weren't able to get the magazines you needed earlier, now's the time to catch up. All the good ones are back in stock: our own Brownells brand in both super-reliable standard and enhanced tactical configurations, including a bunch of nifty, easy-to-order bulk-pack combos. Also got polymer 30-round mags from Magpul – both the latest Gen M3 and the popular Gen M2 "MOE" models – plus the Lancer L5 AWM.
Even though there's lots of products you want and need in the catalog, you'll have to visit our website to see the very latest additions. Like the brand-spanking new Present Arms Firearms Workstations that we picked up after Catalog #66 went to press. These beauties have pre-cut inserts, slots, bench blocks, and other gizmos to keep your AR-15 securely in place while you work on it. A real life-saver for both the professional and "do it yourself" AR-'smiths!
With so much going on ‒ and winter just around the corner ‒ all our gang here hope you make time to get out to enjoy some fall weather, hunt what you like to hunt, and do it with people you care about. Life is just too short not to stop to enjoy the season and the critters that come with it.
About:
Founded in 1939, Brownells is an Iowa-based, family-owned company that supplies more than 75,000 firearms parts, accessories, reloading components, gunsmithing tools, and ammunition to armorers, gunsmiths, and shooters worldwide. In addition to their industry leading 100% lifetime guarantee on EVERY product sold, their staff of veteran Gun Techs are available to assist customers with any need – free of charge. There are no minimum order sizes or fees. To place an order, or for more information, call 800-741-0015 or or visit Brownells.com