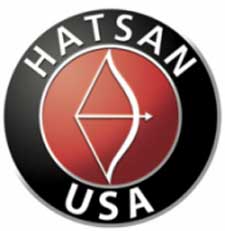 USA –-(Ammoland.com)- HatsanUSA, Inc. has announced Chevalier Advertising, Marketing & Public Relations as its agency of record.
This new partnership complements HatsanUSA, Inc.'s quality craftsmanship and strong airgun enthusiast following with Chevalier's experience in the shooting, outdoors and tactical markets.
Founded in 1976, Hatsan is a vertically integrated Turkish manufacturer that is revered throughout the world for creating some of the industry's best products. The company produces nearly all of its components in-house, including precision rifled barrels made from high-quality German steel and elegant Turkish walnut stocks. Until HatsanUSA Inc. was established these finely crafted airguns were unavailable for purchase inside the United States despite their strong demand.
Hatsan offers a wide range of innovative products from moderately priced break barrel spring airguns to high-end underlever spring, vortex gas piston and pre-charged pneumatic (PCP) airguns for the most hardcore of enthusiasts.
Unlike other airgun manufacturers that rate their products with light-weight alloy aluminum pellets for higher advertised muzzle velocity, Hatsan products are tested with heavier lead pellets that they are designed to shoot. This creates a reality-based velocity rating that can be replicated by consumers and increases accuracy and energy upon impact.
"HatsanUSA Inc. has really taken off since its founding in 2011," said the company's CEO and President Blaine Manifold. "Now we want to expand to the next level, and we feel that Chevalier is the perfect match to help us get there."
Chevalier will work with HatsanUSA Inc. in its public relations, creative and advertising efforts to initiate a comprehensive marketing program and branding strategy.
"The Hatsan brand is well known throughout the world for its unmatched craftsmanship and performance in airguns," said Aaron Lisech, Account Manager at Chevalier Advertising. "We're excited that HatsanUSA has chosen us to help bring their name and products to the forefront of the American market."
About Chevalier Advertising, Marketing & Public Relations:
Located in Lake Oswego, Oregon, Chevalier is a full service advertising, marketing and public relations agency specializing in the marketing of hunting, outdoor, shooting and law enforcement products. For additional information about Chevalier, visit
www.chevalier-adv.com
About HatsanUSA Inc.:
HatsanUSA Inc. gives U.S. customers the first opportunity to purchase Hatsan air guns, known and respected throughout the world for their premium Turkish craftsmanship, quality, and hard-hitting performance direct from Turkey.
www.hatsanusa.com
https://www.facebook.com/HatsanUSA