Tucson, AZ – (AmmoLand.com) You do not want to miss the Safari Club International Convention this year. Now is the time to book a hotel room for the Annual Hunters' Convention in Las Vegas, Nevada. Blocks of hotel rooms reserved for the SCI are beginning to fill up and limited time is available for booking.
The 2014 SCI Annual Hunters' Convention will be held February 5-8, 2014 at the Mandalay Bay Convention Center in Las Vegas, Nevada. Attendees of the SCI Convention have a wide range of hotel options with blocks of rooms reserved with special pricing.
Eight hotels offer special SCI pricing including the Mandalay Bay, Excaliber Hotel, Four Seasons Hotel, Luxor Hotel, MGM Grand Hotel and Casino, New York New York, THEhotel (part of the Mandalay Bay Hotel), and the Tropicana Hotel.
Click here for a complete list of hotel rates or go to www.showsci.org and click on the blue "Hotels" button on the right.
For more information, to join or register, visit www.showsci.org or call 1-888-746-9724.
About the SCI Hunters' Convention: Safari Club expects upwards of 24,000 international hunters to visit Las Vegas, Nevada, February 5-8, 2014.  The SCI Hunters' Convention represents the largest and most successful event to raise money for advocacy to protect hunters' rights. The 2014 Hunters Convention will be the largest in the organization's history with nearly a million square feet of exhibits and 2,500 vendors. 
Becoming an SCI Member: Joining Safari Club International is the best way to be an advocate for continuing our hunting heritage and supporting worldwide sustainable use conservation, wildlife education and humanitarian services. JOIN NOW: http://member.scifirstforhunters.org/join/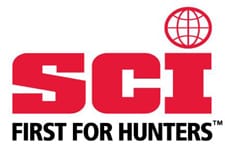 Safari Club International – First For Hunters is the leader in protecting the freedom to hunt and in promoting wildlife conservation worldwide. SCI has approximately 200 Chapters worldwide and its members represent all 50 of the United States as well as 106 other countries. SCI's proactive leadership in a host of cooperative wildlife conservation, outdoor education and humanitarian programs, with the SCI Foundation and other conservation groups, research institutions and government agencies, empowers sportsmen to be contributing community members and participants in sound wildlife management and conservation. Visit the home page www.safariclub.org or call 520-620-1220 for more information.