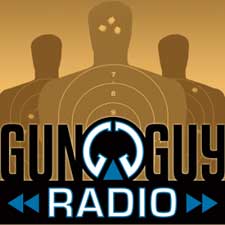 DeKalb, Illinois –-(Ammoland.com)- Guns and movies are a great combination and the popularity of guns is often directly influenced by an appearance in a particular movie. An entire online database of the appearance of guns in movies – www.imfdb.org – has become popular within the firearms enthusiast community.
This week on Gun Guy Radio the panel discusses guns in movies, but not the traditional ones. Instead, Jake, Mike Emmert (Firearms Insider), Hank Hockey (Firearms Radio Network Director of Sales), Reed Snyder (the AR-15 Podcast), Brad West (Chief Technology Officer of the Firearms Radio Network) discuss their favorite guns from Sci-Fi movies.
From the Mare's Leg used in Serenity to the Desert Eagles used in The Matrix to the fictional guns used in The Fifth Element, gun guys have long been fascinated by the use of firearms in the movies. The guys reminisce about some classic sci-fi movies and the guns used in them like Aliens and Blade Runner and discuss their favorite sci-fi guns. They even discuss the prop houses and the ability to purchase the movie guns after shooting has wrapped.
The product spotlight brings everyone back to earth and Paul Levy tells Jake about Brownell's 9mm AR15 Colt-style magazines. These are all steel construction – including the follower, with a bolt hold open tab, and a Xylan coated body. These magazines can be fully disassembled for easy maintenance and cleaning. Also, these magazines and other products featured on the product spotlight will now be the prizes in a new monthly giveaway that is taking the place of the smaller weekly gift card giveaway.
Listen to the entire episode at www.gunguyradio.com/092/ or subscribe to the show on iTunes. Visit the Firearms Insider Community at www.firearmsinsider.tv.
About Gun Guy Radio:
Gun Guy Radio is an on demand talk show that stays positive and leaves out the politics. The podcast features a variety of popular guests that cover a wide range of topics that firearms enthusiasts crave. Each episode delivers entertainment, education and encouragement that expands firearm ownership and knowledge to the current and next generations. Gun Guy Radio is found on the Firearms Radio Network and releases every Sunday at 12:00 pm central time. Subscribe to the email list and listen via Apple iTunes, Stitcher Radio or www.gunguyradio.com.