Berryville, AR –-(Ammoland.com)- The RRX (Rapid Response XL) is the final rendition of our classic tactical folder, the Rapid Response.
We have enlarged The RRX to work better as an everyday, tactical folder, with upgraded construction and have selected the unparalleled performance of ELMAX steel for the blade.
The RRX is American made in small batches to our rigorous specifications, hand fitted, sharpened and tuned to be an easy opener in all-tactical conditions.
The unique trigger flipper is quick into action while the rugged Titanium framelock will provide near fixed-blade like strength. A recessed 3D machined handle inlay and ergonomic frame design provides a sure grip in all tactical conditions.
Practical features of the RRX include a deep pocket carry clip, ambidextrous thumb studs, lanyard hole and blade and handle jimping all add up to a hard use but easy to carry everyday folder that is worthy of the Wilson Combat name and a fine edged companion to our custom firearms.
The 3.62" inch long blade is an ideally shaped tactical drop point of ELMAX, a Swedish powdered metal "super steel" that is acknowledged as one of the best knife materials on the market today.
A High carbon, high chromium stainless, powder metal, vacuum melted ELMAX has unmatched wear properties with the rust resistance of stainless steel. There is simply no better choice for a hard use folding knife.
Specifications:
$289.95
Steel: ELMAX Powdered Metal Stainless Steel
Hardness: RC 59/60
Blade Length: 3.5"
Blade Thickness: .137"
Handle Material: Titanium
Handle Length: 4.5"
Overall Length: 8"
Weight: 4.8 oz.
Inlay: Available in Black G10 or Cocobolo
Finish: Stonewash Polish
http://tiny.cc/ygw65w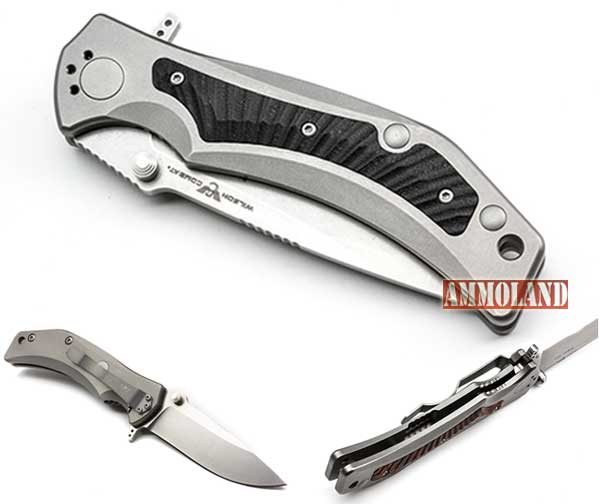 About:
Founded in 1977, Wilson Combat has grown to include more than 50 employees – no one else in the custom gun business has as many professionals, as many years of experience, or as much history with hand-crafting custom guns as we do. Here's an idea of the type and number of years experience you will find at Wilson Combat: Vist: www.wilsoncombat.com