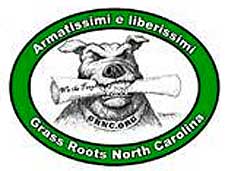 North Carolina –-(Ammoland.com)-They're here for your gun rights!
The recently launched television network, Al Jazeera America, is owned and operated by the royal family of Qatar.
According to National Review, these Persian Gulf dictators are funders of the Muslim Brotherhood as well as the terrorist group Hamas, and now they're here to throw a burqa over your God-given right to keep and bear arms.
Will you let them?
As evidenced by the anti-gun hit piece we've linked to below, Al Jazeera America is wasting no time going after the western way of life, and they've even focused on a gun seller right here in North Carolina. Don't allow ignorant and dangerous statements like those that follow go unchallenged. Please go to this page, and leave a comment. Remind Al Jazeera, and the anti-gun types who support them, that this is the United States of America, and we're not interested in being propagandized by oppressive, gun-grabbing monarchs from half way around the world.
Statements & Comments from the Al Jazeera America anti-gun article, New gun laws divide North Carolina:
What are you trying to do? [Effie Steele] said. If you're trying to save lives, you don't want to put more guns in the hands of people. If you're trying to make money, then you can come up with any argument. . .

… Love this, now the Stand Your Ground Law in NC is also, Stand Your Playground! So no big guy is ever going to take the swing set from my kids… Yeeeee-haw! 😉
IMMEDIATE ACTION REQUIRED!
Click above to read the Al Jazeera America hit piece, and leave a comment focused on liberty and sanity.
Or: https://america.aljazeera.com/articles/2013/12/9/new-gun-laws-dividingnorthcarolinians.html
About:
Grass Roots North Carolina is an all-volunteer organization dedicated to preserving the freedoms guaranteed us by the Bill of Rights. Our main focus is the right to keep and bear arms. GRNC was central to drafting and passing North Carolina's concealed handgun law and since that time has continued to push for improvements to gun laws. Visit:www.grnc.org