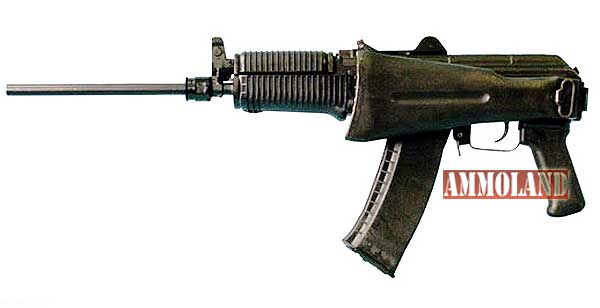 LAS VEGAS, NV –--(Ammoland.com)- Arsenal Inc. is happy to announce the new SLR-104UR rifles. Available immediately, this highly sought after configuration in an equally desirable caliber, is in stock and ready to ship.
The SLR-104UR may be the most popular stamped receiver "Krink" configuration in the industry. In the past, even parts kits have commanded a high premium when they have been available, and now you can own this desirable rifle, ready to roll, along with Arsenal, Inc's legendary quality and warranty and the very low MSRP of $1,249.00.
The 5.45×39 caliber SLR-104UR rifles feature a stamped receiver, hammer-forged and chrome-lined barrel, and left-side folding polymer stock.
The SLR-104UR ships with a 30-round magazine and is manufactured with numerous end users in mind.
For those who like the aesthetics of the "Krink" family of rifles but want the performance of a standard carbine length barrel, or live in non-NFA areas, this rifle is ready to surpass your expectations, out of the box.
For those who prefer the NFA Short Barreled Version (SBR), it is ready for a qualified gunsmith to register with the BATFE and shorten the barrel, immediately utilizing an original 24×1.5mm muzzle device on the factory threads on the front sight block.
Learn more about this product, click here.
ABOUT ARSENAL, INC.
Arsenal, Inc. is the exclusive licensed US manufacturer of the finest, most authentic firearms for government agencies, shooting enthusiasts, and TV & film industry. Arsenal, Inc. uses the latest technology and materials in conjunction with the legendary standards of Arsenal of Bulgaria.
All models made in the US and in Bulgaria are shoulder-fired, gas-operated, magazine-fed rifles and pistols built on forged then milled receivers and implement CNC technology. A wide variety of models are available in calibers 7.62x39mm, 5.56x45mm, and 5.45×39.5mm. Arsenal, Inc. also produces a line of rifles and pistols incorporating stamped receivers that offer an economically priced alternative to the traditional forged and milled construction.
Arsenal, Inc. is online at www.arsenalinc.com, on Facebook at www.facebook.com/arsenalinc, and now on Twitter at http://twitter.com/Arsenal_Inc. Phone Arsenal, Inc. at (702) 643-2703 or by email at [email protected]