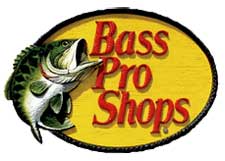 PALM BAY, Fla. – -(Ammoland.com)- Johnny Morris, founder of Bass Pro Shops, was recognized for his outstanding support of conservation by the Wildlife Foundation of Florida (WFF).
WFF Executive Director Brett Boston presented Morris with the BlueGreen Award for conservation leadership on Dec. 4 at the grand opening of the Bass Pro Shops Stick Marsh Outpost in Palm Bay, Fla.
Boston gave Morris a brass sculpture of a lionfish because it symbolizes one of Florida's most pressing conservation issues as well as how Morris' support is helping to overcome this problem.
"The lionfish is a very real and growing conservation challenge we face today in Florida. And because the lionfish is an invasive species from which Florida marine fish have no defense, the sculpture represents our challenge and the partnerships that can and must work together to stop the spread of this menace," Boston said.
Geoffrey C. Smith, whose gallery is in Stuart, Fla., designed the award sculpture, which symbolizes the WFF's mission in partnering with the Florida Fish and Wildlife Conservation Commission (FWC). WFF and FWC strive to conserve and enhance Florida's fish and wildlife resources so they survive and thrive for current and future generations of Florida's residents and visitors. Support from stakeholders such as Morris and Bass Pro Shops helps make that happen.
One way Bass Pro Shops contributes is by hosting an Evening for Conservation fundraising event at its ribbon-cutting ceremony for each of its new Florida stores.
For every dollar spent during a Florida Evening for Conservation event, 50 cents is donated to the Wildlife Foundation of Florida in support of the Florida Fish and Wildlife Conservation Commission.
Morris, a longtime, dedicated conservationist, began his career selling fishing tackle in the back of his father's liquor store in Springfield, Mo. The spot was a popular stop for anglers on their way to Table Rock Lake, and Morris did so well he incorporated Bass Pro Shops in 1972.
Today, Bass Pro Shops is a leading outdoor retailer with 83 destination stores and Tracker Marine Centers across America and Canada. It's also a company that is dedicated to conservation, a commitment that starts right at the top.
"The people of our company believe very strongly that the future of our industry, the sports we serve, and the sports we personally enjoy are absolutely more dependent upon our conservation efforts and how we manage our natural resources than anything else," said Morris. "It is far more important than any catalog we mail, any new store we open, or any new products our vendors create."

As Boston handed the conservation trophy to Morris at the latest Bass Pro Shops grand opening in Palm Bay, he said, "This award doesn't mark the end of a conservation partnership; it marks the beginning. And it is in keeping with a quote of Johnny's from long ago, 'We all live downstream.'"
About Bass Pro Shops
Bass Pro Shops, which specializes in outdoor fun, operates 83 retail stores and Tracker Marine Centers across America and Canada that are visited by more than 116 million people every year. Bass Pro Shops' stores, many of which feature restaurants, offer hunting, fishing, camping and other outdoor gear while their catalogs and website serve shoppers throughout the world. The company's Tracker Marine Group (http://www.trackermarine.com), which has produced the number one selling brand of fishing boats for more than 35 years, manufactures and sells a variety of boats for fishing and cruising. Family fun is on tap at Bass Pro Shops' resort Big Cedar Lodge® (http://www.bigcedar.com), voted number six by Travel + Leisure Magazine as World's Best Hotels for Families. For more information, visit www.basspro.com. To request a free catalog, call 1-800-BASS PRO. Follow us on Facebook at http://www.facebook.com/bassproshops.