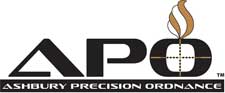 Ruckersville, VA. –(Ammoland.com)- This week APO hosted a Modern Tactical Bolt Action Rifle Workshop for firearms dealers and custom rifle builders at our facility in Ruckersville, Virginia, amidst some of the worst weather we've experienced so far this year!
Starting last Friday, the weathermen bombarded the national and local news channels with threats of winter storm Dion and ice storms of epic magnitude due to hit on Sunday afternoon.
"Oh my, how encouraging… our event is scheduled for Monday."  How much more good news could we stand?
Well thankfully the storm was not as bad as advertised, but we've certainly had nicer days on the range.  Yet I digress, now back to the point.  While attendance from the dealers driving in from Ohio, Pennsylvania, Kentucky and North Carolina was down, we had a number of hearty dealers that braved the tough weather conditions to spend the day with us flying in from as far away as Toledo, Ohio and Atlanta, Georgia!
The classroom session in the morning featured discussions on the expanding tactical bolt action rifle market, women's growing participation in precision rifle shooting sports and specialized accessories dealers can provide to customers to enhance their long range rifle shooting experience.  Many new opportunities are presenting themselves to dealers to expand into the growing precision rifle shooting market segment across the country.
APO's team of former USMC MOS 2112 gunsmiths briefed dealers and fellow gunsmiths on the fundamentals of building high accuracy precision rifles or at least the way we approach the requirement for "precision" here at APO.  There was a good bit of discussion on precision manufactured bolt action receivers, perpendicularity, barrels, cutting chambers, the importance of barrel tenon joint fit, and the meticulous process of "dialing-in" barrels both on the chamber and muzzle ends to <.0002" or less to insure that "straight is actually straight".  This was presented against the backdrop of learning how the USMC's RTE Shop started building precision rifles up through the 1980's under the leadership of Major Jim Land (the father of modern day Marine Corps sniping), now the Secretary of the NRA.
We were really fortunate to obtain the direct support of Leupold optics for this APO dealer workshop.  If you have not had the opportunity to attend Leupold's "Optics 101" class you should.  This was not the typical manufacture's product hype or sales pitch dealers sometimes have to sit thru, but a really good technical brief about day optics as they are manufactured for the shooting sports industry.  Key topics like light transmission, coatings, properties of oculars, objectives, exit pupil size, fixed and variable power magnification, eye relief and reticle design provided invaluable information that teaches dealers to explain a seemingly dry subject to make customers smarter about purchasing the best glass for their particular use.  Leupold's management has created a real educational program that can truly make a difference for dealers selling optics.  Kudos to Kevin Trepa and Rob Girard of Leupold's senior management and Instructor Hunter Lawson.  You guys rock!
Lunch was a real treat coming from acclaimed fine dining Chef Hartman's Barbeque Exchange in Gordonsville, VA.  Mouth watering pulled pork, moist and flavorful beef brisket accompanied by southern inspired cornbread, beans and potato salad were enjoyed by all.  APO works closely with the local community and had two fine students from the high school culinary arts program serving lunch for the dealers.  Lunch was awesome and then came the raffle.  We'd like to especially thank our industry partners that donated prizes for the dealers.  Leupold provided a laser range finder, Ruag the Swiss-P .308Win 175gr Match ammunition, Long Range Accuracy a Light Tactical Bipod, and 100rds of once fired .338LM brass from APO.  Dealers were "happy, happy"!
I ask you, with freezing rain, icy roads, ice fog and mud (lots of mud) what could make for a better day on the range?  The range was only a short five minute ride from the Ashbury facility.  While the freezing rain had stopped we had lots of cold moist air rolling down off the Blue Ridge Mountains which are less that 10 miles from our front door, but you could not see them this day, no sir!
The outdoor range believe it or not, was really comfortable!  APO erected a large Hospitality Tent that was heated to about 80°F with fresh hot coffee and hot apple cider.  Ok, things were looking up, but what about those firing points you ask?  There were four individual firing points set up for APO's small, medium and large caliber rifles.  Each was covered with a pop-up tent, but, more importantly, the ground was double-tarped with straw bale seating for those waiting to shoot.  No mud and no wet tummies for those wanting to shoot prone.  Nice!
Ashbury does something pretty unique in terms of live fire shooting events, something they have obviously done a lot of over the years.  All of their precision rifles were suppressed.  For those of you that have not experienced the absolute civility of being able to talk freely on the firing line with high powered rifles being fired within mere feet of your sensitive hearing apparatus (ears) you simply must try it.  This of course is suggested with the understanding that suppressors require BATFE special licenses and/or tax stamps and must be legal in your state of residence.  Using suppressors allowed for lots of interaction with dealers on the firing line.
Small caliber rifles at Station #1 were a 16.5" .300BLK in a SABER Sporter Chassis and a nicely styled ASW308.  These two rifles shared an AAC 762SD suppressor and had reactive steel targets set from 130 yards to 300 yards.  Dealers greatly enjoyed shooting the .300BLK with Ruag's awesome .300 Whisper 220gr Swiss-P sub-sonic ammo all the way out to 250 yards.  Accuracy was equally outstanding with the ASW308 firing both Swiss-P 175gr Target and 200gr sub-sonic ammunition.
Station #2 offered dealers a TCR6.5 Creedmoor and ASW223 pairing.  These two rifles were absolutely enjoyable to fire and the ASW223 in the new Cerakote Tungsten Gray coating was stunning to behold.  Hornady's 129gr ammo slammed steel with authority, precision and little recoil.  The 69gr .223 Target ammo was laser-like with literally "no recoil" on this gorgeous 10lb platform.  You could nearly lose it if you sat it down amongst the ice, snow and straw!
Station #3 was the domain of the medium caliber "growler" cartridges.  APO offered dealers two .338 Lapua Magnum rifles, an HS Precision HTR200 and Savage 110 each using the very quiet AAC TITAN QD suppressor and both mounted in SABER®-FORSST® modular rifle chassis.  The .338's digested the Ruag 252gr Swiss-P ball ammo with ease and unfailing down range precision.  The gem at this station was the new .300WM SuperSport 20" precision rifle in .300 Winchester Magnum.  This rifle is like Thor's hammer using 200gr Target and 220gr Match ammo.  Light, short and powerful!  Reactive steel targets banged and clanged all afternoon out to 500 yards here with lots of smiles to be had!
Station #4 harbored the large caliber APO rifles, an ASW50 in the mighty .50BMG and a small but mighty 20" ASW338.  Big heavy steel targets were visibly moved by the quiet, but powerful 50.  This rifle was comfortably shot from the prone position by dealers, many of whom had never shot a 50, commenting that it was one of the "coolest rifles" they have ever accurately shot.  The short ASW338 was purposely put at this station to demonstrate the extreme level of accuracy that short barreled medium caliber rifles can delivery at longer ranges.  While we could only shoot to 600 yards on this range, this little 20" .338 is routinely shot beyond 1000yds with 300gr OTM bullets.
As the afternoon progressed the weather began to get bad…again.  We watched the ceiling drop to tree top level and down thru the tree's came an eerie, icy fog.  As dealers went from station to station and eventually came back to the tent with broad smiles and hearty handshakes, we got a sense that everyone really enjoyed the workshop experience.  There were even a few true intrepid dealers that needed just one more whiff of smoke from the Elite Iron suppressor on the ASW50.
Now, we could not see that 600 yard hanging steel target without an optic, but an excited dealer driving the ASW50 with the Leupold 6.5-20x50mm said "I've got this".  There were a few quizzical looks among those of us that could not see the target at this point as everything was gray.  However the RO using Leopold's Mark 4 20-60x80mm spotter confirmed the target, and the dealer was cleared to take the last shot of the day.  With  a mighty "whoosh" out of the Elite Iron suppressor, the spotter called impact which was closely followed by a mighty loud "clang" from out of the fog.  If you have not recently had the pleasure of shooting Leopold's battle-tested Mark 4 and the awesome new Mark 6 and Mark 8 rifle scopes you are missing out.  American made rifle scopes have long been thought to be inferior to their European competitors, yet on this day side by side with brands X, Y and Z the Leopold's Mark 6 and  Mark 8's performed better!  Check out them out and see what you've been missing.
We would like to express our sincerest appreciation to all of the APO staff, dealers and partners that made this such a successful event.  Ashbury is planning three dealer workshops in 2014.  We hope to see you at one of them.  Safe shooting!
PS: Don't for get to sign up for the free Ultimate Tactical Rifle Firepower Adventure Weekend give away sweepstakes running on Facebook!  Click here.
You can also find some great shooting sports gifts at APO's on-line store, "The Armory"
About Ashbury…
Ashbury International Group, Inc. is a central Virginia USA based company, having more than 18 years of international experience as a prime contractor to government agencies, military, and special operations forces as well as manufacturer of commercial shooting sports equipment.  The company provides logistics, engineering, training, ordnance manufacturing, systems integration and emergency preparedness products and services.
Ashbury Precision Ordnance Mfg.  (APO), a division of the Ashbury International Group Inc. is a BATFE licensed 07/11/SOT firearms manufacturer.  APO manufactures the patented SABER-FORSST modular rifle chassis system for small, medium and large caliber bolt action factory and custom rifles.  APO manufactures custom Asymmetric Warrior® (ASW) Precision Tactical Rifles, TCR-Tactical Competition Rifles, and SABER Enhanced Factory Rifles (S.E.F.R). Calibers include .223 Rem, .260 Rem, 6.5 Creedmoor, .308Win, .300WM, .338NM, .338LM, .375CT and .50 BMG.
Additionally, APO manufactures high quality rugged electro-optical weapon mounts and TACT3 tactical field tripods. APO also distributes a selection of long range shooting accessories to include Field Firing Solutions (FFS) ballistic software, Long Range Accuracy Bipods, Sniper's Field Tool Kits as well as Vectronix laser range finders, thermal imagers and night vision devices.
The Rapid Product Development Center (RPDC) provides engineering design and prototyping services. The engineering services group is Solidworks® CAD based with Cosmos® FEA and FeatureCam® CAD/CAM machine programming software, 3D Printer-Fuse Deposition Modeling (FDM) capable, a modern CNC precision machining shop and an experienced, well trained staff.