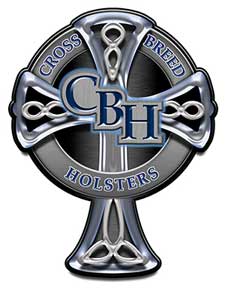 Republic, MO – -(Ammoland.com)- CrossBreed Holsters today announced that it has launched a line of new products that make having your gun close at hand easy, safe and secure.
The new products combine the functionality and quality of their modular holster systems with the versatility and ruggedness of RAM Mount* solutions.
The RAM Mounts are available with the customers' choice of the Ohai, Last Ditch, Belly Band and Purse Defender modular holsters.
CrossBreed Modular Holsters
The CrossBreed modular line of holsters used with the RAM Mounts systems includes the popular Ohai, the Last Ditch, Belly Band and Purse Defender.
The modular holsters are a vast improvement over floppy, cloth or nylon holsters and provide positive retention and absolute stability for firearms.
Flat Surface Mount
The flat surface mount application allows CrossBreed modular holsters including the Oahi, Last Ditch, Belly Band or Purse Defender series to be easily be mounted on any flat surface where having ready access to your gun is secure, safe, accessible and adjustable to fit each users needs. Popular uses include under desk, vehicles, bedside and other flat surface areas where personal protection and self-defense are important.
Round Base with 1" Ball Mount
Form follows function and the Round Base 1" ball mount is designed to fit specific areas where the round base makes the most sense. The Round Base Mount shares the same qualities as the Flat Surface Mount and is designed to fit CrossBreed modular holsters.
Handlebar Mount
Carrying a firearm is a personal choice and once you have made that choice having your firearm with you and accessible provides you with comfort and security at all times. CrossBreed Holsters has combined our innovative Modular holsters with the safe, rugged and secure RAM handlebar mounting system, resulting in the ability to securely mount your firearm on the handle bar of your motorcycle or ATV.
RAM Mount Assembly Only Option
For those gun owners who already own a CrossBreed Modular holster, the RAM Mount Assembly is available separately and comes with a Velcro lined Kydex backer secured to the RAM Mount designed specifically for CrossBreed.
The modular holsters and Kydex assemblies come with CrossBreed's Lifetime Warranty. All CrossBreed modular holster/RAM Mounts combos carry the "Two Week Try It Free Guarantee."
To learn more about CrossBreed Holsters, visit www.crossbreedholsters.com or visit their Facebook page at www.facebook.com/crossbreedholsters. To learn more about RAM Mounting Systems, visit www.rammount.com. Both CrossBreed Holsters and RAM Mounts products are proudly made in the USA.
About CrossBreed Holsters
CrossBreed Holsters, LLC was started in 2005 by Mark Craighead to bring all of the best holster features together in one product without any of the non-functional design elements found in many holsters on the market. Mark's new breed of all-American holsters has grown into a company strong with integrity, craftsmanship and customer service.
* RAM is a registered trademark of National Products, Inc.