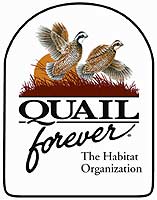 Fairhope, Alabama-(Ammoland.com)– Quail enthusiasts in Alabama recently formed Quail Forever's (QF) newest chapter, The Gulf Coast Quail Forever Chapter. Based in Baldwin County, chapter members will focus efforts on improving public-use habitat for bobwhite quail in the state and introducing youth to the outdoors.
The chapter is led by President Rick Olsen of Fairhope. Olsen, an Alabama native, started hunting quail with his father when he was young. As he grew older, he continued in the wingshooting tradition, hunting ducks and doves. In 2009, he went on a local quail hunt and "fell back in love with quail hunting." Shortly after, he introduced his children, aged 9 and 6, to the sport, and now they help him raise a seven-month-old German shorthaired pointer named "Sage."
The Gulf Coast chapter is focused on improving habitat for wild quail populations and getting families involved in quail hunting and the outdoors. "Baldwin and Mobile counties have such great outdoor activities, including a large quail hunting population and five hunting preserves. Our goal is to get people excited about quail hunting again and get youth and parents involved in this sport, which is a wonderful experience for the whole family," said Olsen.
 "Additionally, we want to improve the habitat around Baldwin County, so we can increase the population of wild quail," continued Olsen. "With Quail Forever's local model, in which funds raised by the chapter stay local, we will be able to do that. After all, quail don't migrate, why should our dollars?"

"The Gulf Coast chapter has a group of individuals who are passionate about quail and quail restoration in Alabama," say Tim Caughran, Quail Forever's east regional manager. "The state has a long history of quail hunting and the tradition is still strong. In forming this chapter, the Gulf Coast members will ensure this tradition is passed on to another generation."
The chapter also elected Dean Skipper as treasurer and will hold its first meeting will be after the first of the year. The chapter is actively looking for volunteers and those interested are encouraged to contact Rick Olsen at (251) 454-0339 or email Rick.
For more information on "The Habitat Organization" or to start a chapter, please contact Tim Caughran at (618) 791-3909 or email Tim.
Pheasants Forever, including its quail conservation division, Quail Forever, is the nation's largest nonprofit organization dedicated to upland habitat conservation. Pheasants Forever and Quail Forever have more than 135,000 members and 745 local chapters across the United States and Canada. Chapters are empowered to determine how 100 percent of their locally raised conservation funds are spent, the only national conservation organization that operates through this truly grassroots structure.