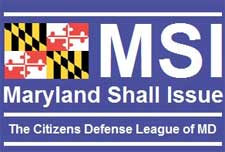 Maryland ––(Ammoland.com)- Maryland Shall Issue, Maryland State Rifle & Pistol Association, and Maryland Licensed Firearms Dealers Association, together with gun owners and other groups across the state, are looking forward to the inaugural 2A Tuesday, on February 4, 2012, on Lawyers' Mall in Annapolis.
We are actively informing people across the region of the need to show up in numbers we've never seen before, in support of your Second Amendment Rights.
In preparation for the 2014 General Assembly session and 2A Tuesday, several questions have been raised. The following answers to some of the most common ones will give a better idea of what to expect from the event.
Why do we need to gather again this year?
Last year, we showed the General Assembly that Marylanders have a deep interest in their Second Amendment Rights, and are willing to stand up for them. We got their attention, but more is needed. If we back off now, it will be assumed we're good with the infringements of the so-called Firearm Safety Act of 2013 (and anything else they choose to push).
Can't I just count on MSI and other groups to make these changes?
Our organizations already do much of the heavy lifting in Annapolis (and we are glad to do it), but it is the voice of the people that will make this happen. You are the most important piece in this machine, and the Legislature (and Governor) need to see you standing up for your rights.
Is there really even a chance to change things?
Definitely, yes. In the 2013 session, the fact that you were there, and our organizations fought tirelessly for you, made an impact. So much so that both the House and Senate had to use questionable tactics to ensure the Governors will was carried out. Expanding our showing in the next session will be critical. The odds of them attempting new legislation DRASTICALLY increase if they think we've forgiven them or given up. 
What are the plans for the event?
There will be a formal program announced soon for the Rally, but the day is intended for concerned Marylanders to spend time engaging with their Legislators, learning about the fight for your Rights, and displaying a show of solidarity that Annapolis has never seen before.
What can I do to help?
In short, we need you to Speak Up, Stand Up, Show Up. Be in continual communication with your Legislators. Not just on 2A issues, but on anything that concerns you. Tell them you are going to see these things through. Make them aware that you will be spreading the word to others, and that we, as Marylanders, will hold them accountable for their votes–both during the session, and in the coming elections. Be in Annapolis as often as you can to meet them face to face. Be at 2A Tuesday with as many people as you can gather. Make it a community event, and show that we are all concerned, and will not back away.
All members of any of our Supporting Organizations are encouraged to get involved! Spread the word to friends, family, co-workers, clubs, and community organizations. This matters to everyone, and we all have ways we can help. Whether it's passing out flyers, contacting the Legislature, or just being in Annapolis on Feb. 4, it all counts.
Event Guidelines
General: This is an all day event. The rally event time is 11:30AM – 1:30PM. Plan on being there early (and late) due to anticipated traffic issues. It is important to leave time to see your Senators and Delegates. We want them to know we are real Marylanders, not bused in people. We are especially asking this of groups coming by bus; please leave time to see your representattives. 
Transportation: You are encouraged to share a ride, to enable the parking areas to accommodate the numbers of vehicles we are hoping to see. Large groups should consider hiring buses/coaches of an appropriate size.
Goals: This is NOT a protest. This is a gathering of civic-minded Second Amendment supporters, petitioning their Government to uphold Constitutional principles. We will take this opportunity to show, through both numbers and words, the impact the 2A community intends to have in the upcoming General Assembly session, and the upcoming elections. You should also plan time before or after the event to visit and speak with your own representatives concerning these issues.
Behavior: This is an opportunity for us, as a community, to dispel the media myths of firearms owners. In the 2013 gatherings, it became clear that we needed to avoid presenting the images the media so desperately wants to portray. Therefore, we request that there NOT be any firearms, replicas, or facsimiles of firearms present. Maryland law expressly prohibits any firearms at anything that could be deemed a "protest" or "demonstration." Dress should not include hostile messages, and camo should be avoided at all costs. This is not an open holster event.
Miscellaneous: Our groups have developed a good working relationship with the Department of General Services (the good people who maintain/prepare the areas, as well as provide security). It is therefore requested that we show them the respect they are due, thank them for their work, and to clean up after ourselves. Everyone should bring a couple of bags along to police the area throughout the day. Smokers should "field strip" their butts, and dispose of them properly.
Maryland Shall Issue, Inc.
1332 Cape Saint Claire Road #342
Annapolis, Maryland 21409
240-446-6782
Mission Statement: Maryland Shall Issue is an all volunteer, non-partisan effort dedicated to the preservation and advancement of all gunowners' rights in Maryland, with a primary goal of CCW reform to allow all law-abiding citizens the right to carry a concealed weapon; and to the education of the community to the awareness that 'shall issue' laws have, in all cases, resulted in decreased rates of violent crime.