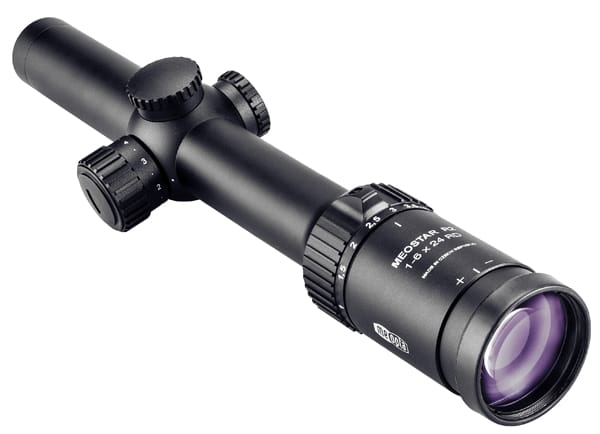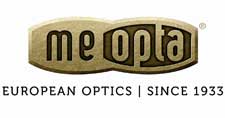 HAUPPAUGE, NY –-(Ammoland.com)- Meopta, a leading European and American optics manufacturer, introduces its next generation MeoStar riflescope series ( http://amzn.to/1dhtXRf )  – the R2 – setting a new benchmark for premium European-made riflescopes.
This new 30mm MeoStar 1-6×24 RD is not only the first in the new R2 line, but also Meopta's first riflescope with a 6x zoom ratio.  The true 1x magnification, wide field of view, edge-to-edge clarity and illuminated reticle options of either the K-Dot 2 or 4C-RD allow for extremely fast and accurate target acquisition.
This is the perfect scope for dangerous game when every split second counts and lethal shot placement is a must.  This versatile R2 is also excellent for close quarter situations on an AR platform and much longer shots depending on the caliber being used and the shooter's proficiency.
"We are always pushing to take our optics to the next level, and this new MeoStar R2 line incorporates new innovations that are unsurpassed at this price point and, in some cases, even by scopes costing significantly more," said Reinhard Seipp, general manager and COO of Meopta USA.  "This is the first of a number of exciting new models that will be introduced in the R2 series in the months ahead."
Meopta riflescopes are already designed to provide low-light dominance to the North American hunter, but Meopta's new MeoLux lens coating clearly separates Meopta from the herd by providing industry-leading light transmission through the entire visible spectrum.  The advanced MeoLux technology, premium Schott glass lenses and expert design enable 99.8% light transmission per glass surface resulting in 95% transmission through the entire scope.  This allows hunters to see more clearly in the lowest light of morning and into the last light of evening. As with all Meopta optics, the new MeoStar delivers a crystal clear, bright image with exceptional color reproduction.  Simply put, seeing better helps you hunt longer and make lethal shots safely in lower light.
Meopta engineers have also created a brand-new illumination system for the R2 series which is visible even in the brightest of daylight.  This new RD8 illumination system has eight levels of reticle intensity so the brightness level of the red dot can be adjusted to accommodate the ever-changing light and weather conditions in the field – from the brightest sunshine and snow to the dimmest light.
Improved windage and elevation turrets are quickly resettable to zero and easy to grip, even with gloves on.  The hydrophobic MeoDrop lens coatings ensure the highest level of visual clarity, easily repelling rain, snow, skin oils and dirt.  Focal adjustment is also quick and easy thanks to Meopta's MeoQuick fast-focus eyepiece, and the external lens surfaces are protected from scratches and abrasion by the robust MeoShield coating.
Like all Meopta riflescopes, the MeoStar R2 riflescope is machined from a solid block of aircraft-grade aluminum alloy and built to withstand extreme conditions.  The scope features an anodized exterior for scratch resistance and is waterproof, shockproof and fogproof for maximum performance and durability.
Two reticle options are available – the K-Dot 2 or the 4C-RD.
MSRP: $1,595.00

MeoStar R2 1-6×24 RD Technical Specifications:
Model MeoStar
1-6×24 RD

min
max
Magnification
1 x
6 x
Objective Lens (mm)
24
Main Tube Size (mm)
30
Exit Pupil Diameter (mm)
11.0
4.0
Eye Relief (in)
3.9
3.8
Field of View (°)
21.30
3.63
Field of View (ft @ 100 yds)
113
19
Focal Plane Position
2
Dioptric Compensation (dpt)
3
Adjustment Per Click (inch @ 100 yds)
1/2
Windage / Elevation Adjustment Range (MOA)
40 / 100
Parallax Correction
no
Length (in)
11.7
Weight (oz)
17.4
Special Features at a Glance:
MeoLux: Innovative, new proprietary lens coating that delivers class-leading 99.8% light transmission per glass surface.
MeoDrop: A proprietary hydrophobic lens coating designed to repel water, grease, skin oils and lens surface contaminates that can impair clarity. This microscopic hydrophobic layer – applied to all external lens surfaces – repels water so that rain and moisture forms a tight ball and simply rolls off the lens surface.
MeoDrop coated lenses are easily wiped clean with no smudging or smearing, stay clean longer and maintain the highest level of visual clarity.
RD2 illumination system: Brand-new, advanced RD8 illumination system, featuring eight-levels of reticle brightness.  Offering the versatility for shooting over snow covered fields in the pre-dawn hours or while in a stand at last light.
MeoClick: Precise, tactile disc turrets allow for quick and easy reticle adjustments at the range or in the field.
MeoQuick: Fast-focus eyepiece rapidly brings targets into sharp focus and provides extra diopter travel to accommodate a wider range of visual acuity variations.
MeoShield: Special coating which protects lens surface from abrasions and scratches.
Shop the Meopta MeoStar Riflescope series on Amazon : http://amzn.to/1dhtXRf
About Meopta
The Meopta Group is a U.S. family-owned, multinational company with facilities in the United States and Europe. Founded in 1933 in Czechoslovakia (now the Czech Republic), Meopta is a leading manufacturing partner to many of the world's finest optical brands. In their Czech facility, Meopta conceives, develops and manufactures precision optical and electro/optical systems for semiconductor, medical, aerospace and military industries as well as for consumer markets. In their New York plant, precision optical products are manufactured and assembled to exacting standards in clean-room environments for the military, industrial and consumer markets.
For more information regarding Meopta, please visit www.meoptausa.com.