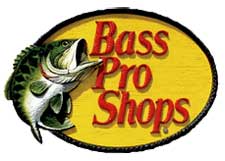 CARY, N.C. –(Ammoland.com)- As the newly named general manager of North Carolina's newest Bass Pro Shops store in Cary, Anita Bumgarner likes only one thing better than basketball — and that's the outdoors.
"I'm a huge college basketball fan," said Bumgarner, "but the outdoors is my passion."
Lucky for her, North Carolina has plenty of both.
The Bass Pro Shops Sportsman's Center opens in February in Cary and Bumgarner believes the store and the state were made for each other.  North Carolina fishing, hunting and other outdoor activities are really popular among residents as well as those visiting the Tar Heel State.
"North Carolina has nearly 2 million hunters and anglers — in fact, the state ranks number seven in the United States for fishing," said Bumgarner. "Being able to manage the store that will provide customers with the gear, knowledge and ability to go out and enjoy our great state is a treat for me," she said.
Born in North Wilkesboro, Bumgarner is a graduate of Western Carolina University.  She managed a Home Depot store for more than 10 years prior to joining Bass Pro Shops in October 2010 as the general manager of the store located in Denham Springs, La.
Describing herself as passionate about future generations of outdoor sportsmen and women, Bumgarner's desire to pass on her love for the outdoors to others made her a perfect fit for a career at Bass Pro Shops.
"Growing up in North Carolina, I am well aware of the pride and passion for the outdoors that the people here possess," she said. "At Bass Pro Shops, our commitment to being active participants within our community will help us pass outdoor skills knowledge to our customers through our workshops and practical hands-on seminars. We look forward to engaging the youth in our community in activities that will allow them to learn to love and protect the outdoors," she said.
Recognized for their outdoor education programs, Bass Pro Shops is dedicated to providing an area where adults, kids, women and families can learn skills that will enable them to maximize their outdoor adventures.
"Whether they are just beginning in the outdoors or want to learn some new and different skills, they can come to our store and attend free workshops such as beginning fishing, setting up a campsite, Dutch oven cooking, nature photography, fly fishing, hunter education classes and more," said Bumgarner.
Since the beginning, Bass Pro Shops' founder Johnny Morris has been dedicated to inspiring people, especially youth and families, to love, enjoy and conserve the great outdoors. That commitment, demonstrated over the course of several decades, is a big reason why Bass Pro Shops is known as the outdoor industry's corporate conservation leader. The Cary store will keep that tradition going by partnering with local and regional conservation groups to help conserve our natural resources and uphold traditional ways to enjoy the outdoors such as hunting, fishing, camping, boating and more.   In fact, the store, which opens later this year, gets underway with a special Evening for Conservation event that is free and open to the public.  More details about these events will be available in the upcoming months.
Bass Pro Shops visitors can shop a huge selection of quality outdoor gear, clothing and accessories from top industry names and at value prices.  The store, located at 801 Bass Pro Lane in Cary, will also feature the world-famous Tracker and Nitro boats.
Typical with Bass Pro Shops store design, the Cary store will draw upon the heritage of the area in its visual design and presentation. Conservation and educational themes, both Bass Pro Shops hallmarks, will also be evident throughout the store.
Bumgarner looks forward to leading a team of 200-plus associates from the Raleigh area that possess a passion for the outdoors so customers will be assured of getting help from associates who are skilled and knowledgeable.
"Focusing on education and our rich heritage in North Carolina will allow Bass Pro Shops to bring the outdoor experience to everyone," said Bumgarner.  "Protecting our outdoor traditions and ensuring we pass them on to our youth is a big priority for our team."
For more information about Bass Pro Shops stores, products, events or services, visit www.basspro.com.  Keep watching for more information regarding the grand opening events for the Cary store here: http://tiny.cc/48f77w 
About Bass Pro Shops
Bass Pro Shops, which specializes in outdoor fun, operates 83 retail stores and Tracker Marine Centers across America and Canada that are visited by more than 116 million people every year. Bass Pro Shops stores, many of which feature restaurants, offer hunting, fishing, camping and other outdoor gear while their catalogs and website serve shoppers throughout the world. The company's Tracker Marine Group (http://www.trackermarine.com), which has produced the number one selling brand of fishing boats for more than 35 years, manufactures and sells a variety of boats for fishing and cruising. Family fun is on tap at Bass Pro Shops resort Big Cedar Lodge® (http://www.bigcedar.com), voted number six by Travel + Leisure Magazine as World's Best Hotels for Families. For more information, visit http://www.basspro.com.  To request a free catalog, call 1-800-BASS PRO.  Follow us on Facebook at http://www.facebook.com/bassproshops.