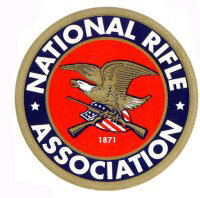 FAIRFAX, Va. –-(Ammoland.com)- Get your VIP pass to the National Rifle Association in "NRA All Access," a new series premiering Sunday, January 5 2014 at 10 p.m. ET/PT on Outdoor Channel.
The year-round show takes a comprehensive look at the role the NRA plays in important Second Amendment issues and the outdoor lifestyle.
Presented by Taurus, "NRA All Access" will introduce viewers to the NRA's relationship with entertainers, athletes, veterans, and everyday Americans who have a deep passion for gun ownership and the shooting sports tradition. From entertaining and educational storytelling to eye-opening exclusive interviews, audiences will get a first-hand look into the programs and people of the NRA.
Each episode in the half-hour series, anchored by Matt and Jessie Duff, covers two feature stories and explores shooting concepts in a segment called Firearm Science.
"The National Rifle Association is a family of five million unique individuals who are joined by their interest and respect for an American's right to bear arms," said Kyle Weaver, Executive Director of NRA General Operations.

"We are very excited for NRA All Access to show a side of NRA that is seldom seen."

"There are so many untold stories about the relationship between the National Rifle Association and its members," said Mark Kresser, President and CEO at Taurus Holdings. "Taurus is thrilled to be a central part of connecting these stories to the millions of American families who treasure the outdoors."
Learn more about "NRA All Access" and look for episode updates at www.nraallaccess.com.
About the National Rifle Association
Established in 1871, the National Rifle Association is America's oldest civil rights and sportsmen's group. Five million members strong, NRA continues its mission to uphold Second Amendment rights and is the leader in firearm education and training for law-abiding gun owners, law enforcement and the military.

About Taurus
Taurus® is the global leader in revolver production.  Taurus International Manufacturing, Inc. is proud to be the U.S. importer of all Taurus brand firearms manufactured in Brazil and to be the manufacturer of the model PT-22, PT-25 and PT-738 pistols made here in the U.S.  Taurus International services all Taurus brand firearms under the LIFETIME REPAIR POLICY as well.  For additional information about Taurus, visit www.taurususa.com.
About Outdoor Channel
Taking viewers across America and around the world on unparalleled adventures since 1993, Outdoor Channel is America's Leader In Outdoor TV. Dedicated to the outdoor lifestyle and conservation, the independent cable network is a division of Kroenke Sports & Entertainment, LLC and provides a complete spectrum of riveting hunting, fishing, shooting and adventure entertainment. Outdoor Channel is received by 39.1 million U.S. households – the largest outdoor TV footprint in the country – and is available in more than 50 countries internationally. Outdoor Channel can be viewed in HD and is accessible by broadband and mobile platforms. For program times and other information, visit www.outdoorchannel.com. Follow Outdoor Channel on Twitter and on Facebook, and download the iPhone and iPad app.