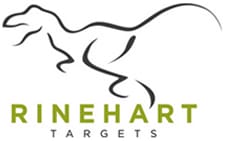 Janesville, WI. –-(Ammoland.com)- Rinehart Targets is excited to introduce the extremely versatile, six sided Woodland Hunter target to those who love to let arrows fly.
Manufactured from Rinehart's Woodland FX Foam, this shooting surface can handle anything that is thrown at it.
The Woodland Hunter incorporates Rinehart's renowned "self-healing" foam for unmatched durability capable of absorbing all arrows and bolts.
After the job is done, you'll find that extremely easy arrow removal was also a key design point when making of this target. Six different shooting sides are offered by the Woodland Hunter, including two 3-D deer sides.
Rinehart's new Woodland Hunter target exemplifies functionality, durability and versatility like no other target. The Woodland Hunter retails for $129.99.
Shop Rinehart 3-D Targets on Amamzon: http://tiny.cc/0a4g7w
About Rinehart Targets:
Since 1999 Rinehart Targets has been manufacturing the best 3-D archery targets on the market. A combination of quality, durability and unique offerings makes this product one of a kind. Rinehart has continued to expand their product family with the introduction of the Rhino Series™ for the 2013 season. Rinehart's diverse target line has been extremely well received by all levels of archery shooters and will continue to introduce cutting-edge technology in the future.
Janesville, WI 53546 • Telephone: (608) 757-8153 • Or visit www.rinehart3D.com.