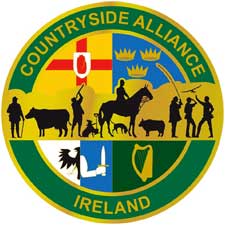 Ireland –-(Ammoland.com)- It is apparent from the recently published 2012 Birdcrime Report that the Royal Society for the Protection of Bird's (RSPB) continuing attack on grouse moor owners and their managers is unequivocal.
They have been singled out within the report, and its Director of Conservation has made a number of serious accusations – accusations that have been made without any firm evidence with which to substantiate them. The proof is in the data that they have released, and the facts and figures within the report just don't add up.
The RSPB has claimed that reliable data are essential to monitoring the extent of wildlife crime and that is something with which we would certainly agree. However, its coverage within the report of a particular piece of peregrine falcon research makes a mockery of that claim, as does its apparent dismissal of the significant reduction in the number of poisoning incidents in 2012.
When the peregrine research was published in 2010, the National Wildlife Crime Unit circulated a caveat to all Police Wildlife Crime Officers in the UK explaining that the data used in the research was out of date (it had been collected between 1990 and 2006), and that in using such information there was a danger that the research paper was suggesting a current situation.
It is intentionally misleading for the RSPB to cover that piece of research for a second year running in its Birdcrime Report.
Whilst the RSPB acknowledges that over the last three years of recorded incidents (2010-2012), the number of confirmed poison abuse incidents involving birds of prey reported to the RSPB has declined across the UK (from 70 to 20 – a massive reduction of 70%), they claim that year-to-year variations cannot be reliably compared statistically, due to the small sample size and the ad-hoc nature of the way incidents are discovered. One might reasonably wonder how the Charity hopes to obtain reliable data.
Here at the Countryside Alliance, we have zero tolerance towards raptor persecution and do not condone any act of illegal persecution against wildlife. However, the RSPB's attack on those in the uplands is completely unjustified. The proof is in the data they themselves released last week. The RSPB received information on 49 individual prosecutions involving wild birds in 2012, of which just 7 individuals (15%) were gamekeepers. None of the incidents for which those 7 were prosecuted took place in the uplands of England.
This Birdcrime Report is the latest in a long line or reports that seek to demonise and undermine gamekeepers and the shooting community. We will not stint in our promotion of our hard working gamekeepers, nor the conservation benefits shooting brings to Britain.
In closing I would like to wish all members and supporters a very merry Christmas and a sporting New Year.
Barney White-Spunner
Executive Chairman
About
Countryside Alliance Ireland has been active since the early 1960s, providing Irish sportsmen and women with high levels of information and advice and representation. Over the years as the political environment has changed we have evolved into a highly effective campaigning organisation. Countryside Alliance Ireland is governed by an elected "Board" made up from members throughout Ireland. The Board sets policy and oversees financial and operational matters. Countryside Alliance Ireland partner groups nominate members of the "Board" also, making it truly representative of country sports interests in Ireland. Visit: www.countrysideallianceireland.org