Fenton, MO –-(Ammoland.com)- Security Equipment Corporation (SEC), makers of SABRE & SABRE RED pepper spray and Frontiersman bear attack deterrents is pleased to announce its corporate partnership with Professional Outdoor Media Association (POMA).
"We are glad to be a part of an organization of outdoor communicators, who will share our message fairly and honestly," said David Nance. "Whether explaining how to read a bear spray label or sharing tips on using pepper spray, POMA members will help spread the word about our product divisions and bring more attention to personal safety when enjoying the outdoors."

"POMA is pleased to welcome Sabre and Frontiersman to its growing corps of Corporate Partners," added Laurie Lee Dovey, POMA executive director.

"POMA's members look forward to learning more about Sabre's and Frontiersman's products and the in-the-wilderness and self-defense pepper-spray marketplaces. The better informed POMA members are, the more they can help their readers, viewers and listeners make educated decisions about products and their uses."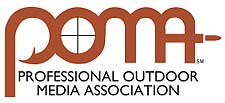 Since 1975, "Making Grown Men Cry Since 1975", Security Equipment Corporation has produced the safest and most effective line of defense spray products. Branded as SABRE, SABRE RED and FRONTIERSMAN, customers are offered the finest defense spray possible with one thought in mind: When a life is at stake, Only The Best Will Do.
POMA is the premier professional communications organization serving the traditional outdoor sports and defense markets. POMA's 480-plus members include media and industry members who work together to ensure the fair and honest reporting of hunting, sportfishing, wildlife conservation, the shooting sports, defense, and ancillary activities. POMA's mission is to foster excellence in communications at all levels, help members build their businesses, connect media and industry, and mentor the next generation of traditional outdoor sports communicators.
Editors Note: You too can Join POMA visit http://tiny.cc/lrh97w and Join today, tell them Ammoland Shooting Sports News sent you.