By AWR Hawkins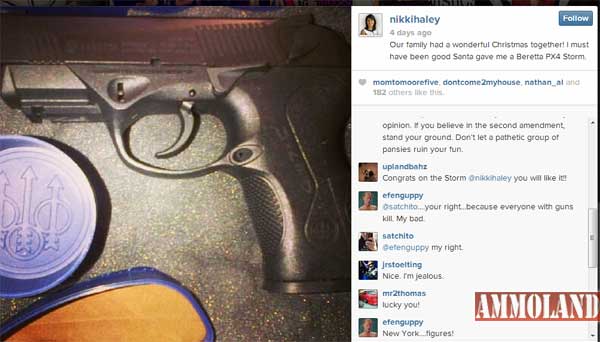 Washington DC – -(Ammoland.com)-  South Carolina Governor Nikki Haley (R) got a great Christmas gift this year–a Beretta PX4 Storm handgun.
After receiving the gun, she took a photo of it and sent an Instagram with the following caption: "Our family had a wonderful Christmas together! I must have been good [because] Santa gave me a Beretta PX4 Storm."
The PX4 is a great gun for concealed carry, personal protection, and target shooting/plinking. And According to Beretta, even the compact version comes with a "high capacity" magazine. This "provides for true combat effectiveness," which is the kind of effectiveness every American wants on his or her side if a criminal attacks.
Maybe the PX4 Storm for Haley will be followed by a Beretta factory for South Carolina? After all, they've already said "no" to Terry McAuliffe's Virginia.
Follow AWR Hawkins on Twitter @AWRHawkins
About:
AWR Hawkins writes for all the BIG sites, for Pajamas Media, for RedCounty.com, for Townhall.com and now AmmoLand Shooting Sports News.
His southern drawl is frequently heard discussing his take on current events on radio shows like America's Morning News, the G. Gordon Liddy Show, the Ken Pittman Show, and the NRA's Cam & Company, among others. He was a Visiting Fellow at the Russell Kirk Center for Cultural Renewal (summer 2010), and he holds a PhD in military history from Texas Tech University.
If you have questions or comments, email him at [email protected] You can find him on facebook at www.facebook.com/awr.hawkins.