By Major Van Harl USAF Ret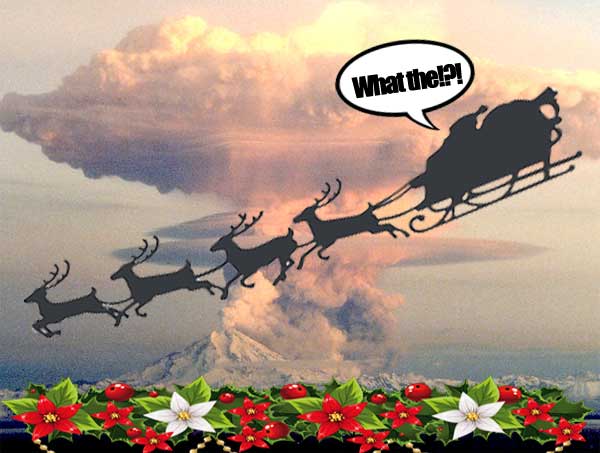 Wisconsin –-(Ammoland.com)-  I lived on Kodiak Island, Alaska with my father the Navy Master Chief, as a child.
Because of early imprinting on my young mind I have always had a love for all things Alaskan. My wife and I drove up the Alaskan Highway for our honeymoon and I joined the Air Force hoping someday to be stationed in Alaska.
In 1988 I got the call. I was headed to Elmendorf Air Force Base, Anchorage, Alaska. I drove up the last week of December. It was like being in a seven-day-long Christmas card. Everything was covered in snow and ice. Our first Christmas in Alaska was 1989. It was suppose to a quiet little event involving only my wife & I, and our three dogs.
Anchorage was a town of 250,000 people, but most are first generation Alaskans. Very few people have extended family in Alaska. For the military station in Alaska, the lack of local family can be an even bigger issue. The military tries to have what they call, a liberal leave policy, which lets as many people take vacation during Christmas time as possible. There are a lot of airline tickets with lower "48" destinations purchased by military members, for trips out of Alaska in December.
There is also the issue of college age children trying to get home to Alaska for the holidays from their campuses in the south.
Plans made, tickets purchased, then nature strikes and changed everything that Christmas of 1989.
There is a volcano called Mount Redoubt less than 100 miles due south of Anchorage. On 14 December 1989 Mount Redoubt had what was called an ash-rich explosion. Sitting in Anchorage watching it erupt was just like watching a nuclear explosion. In fact if you did not know there was a volcano eruption, as some people who lived in the "bush" did not, you very easily could have believed Alaska was under attack.
There were a total of 23 major explosive events in the next couple of months. This turned out to be the second most costly volcanic situation in US history, with an estimated economic cost somewhere near $160 million. What it did for Alaska was shut down the entire state during Christmas.
The ash cloud in the air made it impossible to fly jet aircraft. In fact a Dutch KLM 747 aircraft lost all four engines in the ash cloud. The crew was able to get them started at the last minute and landed safely at Anchorage. There were no flights in or out of Alaska after that.
We had a number of Air Force friends who were suppose to be headed home for Christmas, with no back-up plans to celebrate the season in Anchorage. We started calling around and found five military families and a couple of single GIs who were now without holiday plans. We invited them all to our house and that year we had 22 people for Christmas dinner. It turned out to be a picture perfect holiday meal. Roaring fire in the fireplace, house in complete Christmas trim and three foot of snow in the yard, but most importantly our Air Force family was safe.
This started a new tradition in our Alaskan home for the next three Holiday Seasons. We put the word out early in the fall that we were having our large Christmas dinner and anyone who was not going on leave to the "lower 48" was invited to dine with us. The rest of the time we were in Alaska we had an average of 18 to 20 people for Christmas dinner. We even had a few civilian Alaskan friends over.
Our daughter was born during our last October in the state and she was sitting (sort of) at the table for our final Alaskan Christmas dinner. When you are military and far from home during the holidays, having your "military family" for Christmas dinner is a wonderful experience. In fact if you are career military, your "military family" is more likely to be closer to you than a lot of your actual family back home. They share your service to country, your constant moving about and they understand what a Volcanic Christmas is, without having to have it explained.
The Harls are having their third Milwaukee, 100% civilian Christmas this year.. The Colonel's brother will be coming by and he has one of the trucks we drove in Alaska. And yes if you open the hood you will still find volcanic ash all these years later.
Major Van Harl USAF Ret.
About Major Van Harl USAF Ret.:Major Van E. Harl USAF Ret., a career Police Officer in the U.S. Air Force was born in Burlington, Iowa, USA, in 1955. He was the Deputy Chief of police at two Air Force Bases and the Commander of Law Enforcement Operations at another. He is a graduate of the U.S. Army Infantry School.  A retired Colorado Ranger and currently is an Auxiliary Police Officer with the Cudahy PD in Milwaukee County, WI.  His efforts now are directed at church campus safely and security training.  He believes "evil hates organization."  [email protected]