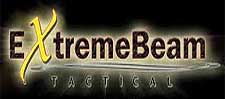 St. George, UT –-(Ammoland.com)-  Alpha-TAC's ExtremeBeam has manufactured some of the best tactical flashlights available today.
Now, the company has released the M4 Scirrako ( http://tiny.cc/j7weax )  – a long-range workhorse of a flashlight worthy only of the ExtremeBeam name.
Machined from solid bar stock aluminum, this powerful flashlight features a 230 lumen bulb that can easily outshine and outperform other flashlights with twice their lumen rating. This feat is achievable thanks to ExtremeBeam's SuperLumen™ technology that uses a precision engineered reflecting cone that captures nearly all of the light produced from the powerful LED bulb. The end result is a powerful tune-focusable central beam with a light projection of over 330 meters for 7 hours while on high, making this one of the farthest reaching sport-tactical light of its size in the industry.
Like all ExtremeBeam flashlights, the M4 Scirrako is given the highest attention to detail and craftsmanship. Not only are the entire body and reflecting cone slow machined from dense solid bar stock aluminum, the flashlight features a micro-textured body for increased grip even when wet, tri-cut glass for greater durability, double O-ring seals for up to 30 feet of waterproof protection and an anti-glare stealth coating.
Inside the M4 Scirrako is ExtremeBeam's proprietary Anti-Recoil system that is guaranteed to protect the inner workings of the light from recoil forces up to .50BMG.
The MSRP of the M4 Scirrako is $59.95 and includes a limited lifetime warranty that even covers destruction, no questions asked – although, ExtremeBeam would love to hear your story.
   M4 Scirrako
Anti-Recoil® up to .50Cal BMG
Weight (with battery): 186 grams  (6.56 ounces)
Total Length: 150mm (5.9 inches)
Head Bezel Width: 44.7mm (1.76 inches)
Main Body Width: 25.5mm (1 inch)
Light Volume: 230 lumens
Light Projection: 333 meters (1090 feet)
Average Run Time: 7 hours (high) 12 hours (low) 10 hours (strobe)
Waterproof: 30 feet
Battery Type: Two 3.0-3.6 volt CR 123 batteries
Modes: High-Low-Strobe-Off
Order Yours on Amazon: http://tiny.cc/j7weax
About ExtremeBeam
Alpha-TAC's ExtremeBeam is committed to providing the best Sport, Tactical, and Industrial lighting products available on the market. Superior engineering and craftsmanship allow them to outperform and outshine other high-end lighting products of the same class. For more information about ExtremeBeam and its complete line of products visit www.extremebeam.com.
ExtremeBeam – A Shining Light in the Face of Darkness