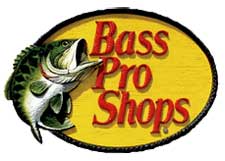 HOOKSETT, N.H. -(Ammoland.com)- One of Bob Pope's favorite things to do is take his family camping.
"I love getting together with my family outdoors," he said.  "I enjoy teaching my kids how to bait a hook and fish; start a campfire; and pitch a tent.  We make good memories exploring the outdoors."
Pope's other favorite thing to do is combine his work experience with his passion for the outdoors.  As the new store manager for the soon-to-open Bass Pro Shops Sportsman's Center in Hooksett,  he is poised to succeed at both.
Bass Pro Shops, named as one of the "Top 10 Hottest Brands in America" by Advertising Age magazine, will open its 66th store later in February.  The 130,000-square-foot store is located at 2 Commerce Drive in Hooksett.
Pope grew up camping, boating, and swimming with his family in Massachusetts, but says New Hampshire was always like a second home.
"Some of my best camping trip memories are from my adventures in New Hampshire," said Pope.  "As a kid, my family went to Lake Winnipesaukee in Moultonborough every summer.  We camped at Greenfield State Park and I've climbed Mt. Monadnock dozens of times."
Pope refers to himself as a 'lifetime Boy Scout' (he achieved the rank of Eagle Scout), and he spent many summers at Camp Quinapoxet in Rindge, N.H. Later he worked summers on the waterfront at "Quinny" teaching boating and swimming to Cub and Boy Scouts.
As the Hooksett store manager, he is excited to be able to offer other families the opportunity to learn and experience the outdoors together.
"At the Hooksett store, as at all Bass Pro Shops locations, we will be offering free outdoor skills workshops," he said.  "These will be for novice adults, kids, and especially families.  From hunter safety education classes to beginning fishing and from setting up a campsite to Dutch oven cooking, nature photography and more, Bass Pro Shops sells outdoor products as well as teaches how to use them."
Pope comes to Bass Pro Shops with 20-plus years in retail.  He was general manager of Modell's Sporting Goods in Newton, Mass., for four years, and spent 10 years as a manager at Circuit City.  Most recently he was the operations manager and assistant store manager at the Bass Pro Shops store in Foxborough, Mass.
Pope will lead a staff of approximately 200-250 associates from the Hooksett area who are knowledgeable about the outdoors and ready to help customers make the most of their adventures.
"As a new resident of Londonberry, I'm proud that my family and I are now part of the rich New Hampshire tradition of celebrating the outdoors," said Pope.  "But, I'm really looking forward to helping our residents and visitors enjoy all that this area has to offer.  Located on exit 10 just before the toll roads on 93 North, our store is the gateway to the lakes region, the White Mountains, and the coast—and all the outdoor adventures waiting for them there."
In addition to helping its customers enjoy the outdoors, Bass Pro Shops also works with its partners on behalf of conservation. The company has been honored many times for its conservation and education efforts, and the Hooksett store will continue that tradition. Pope will partner with local and regional conservation groups to ensure outdoor enthusiasts have opportunities to enjoy the outdoors now and in the future. In fact, the first official event during the store's grand opening is a special Evening for Conservation that is free and open to the public. More details about this and the grand opening event will be available in the upcoming weeks.
Those visiting the Bass Pro Shops store in Hooksett will be able to shop a huge selection of high-quality outdoor gear, clothing and accessories from top industry names and at value prices.  The store will also feature the world-famous Tracker and Nitro boats.
Typical with Bass Pro Shops store design, the Hooksett store will draw upon the heritage of the area in its visual design and presentation. Conservation and educational themes, both Bass Pro Shops hallmarks, will also be evident throughout the store.
For more information about the Bass Pro Shops Sportsman's Center in Hooksett, visit: http://tiny.cc/6xq19w
About Bass Pro Shops
Bass Pro Shops, which specializes in outdoor fun, operates 83 retail stores and Tracker Marine Centers across America and Canada that are visited by more than 116 million people every year. Bass Pro Shops' stores, many of which feature restaurants, offer hunting, fishing, camping and other outdoor gear while their catalogs and website serve shoppers throughout the world. The company's Tracker Marine Group (http://www.trackermarine.com), which has produced the number one selling brand of fishing boats for more than 35 years, manufactures and sells a variety of boats for fishing and cruising. Family fun is on tap at Bass Pro Shops' resort Big Cedar Lodge® (http://www.bigcedar.com), voted number six by Travel + Leisure Magazine as World's Best Hotels for Families. For more information, visit http://www.basspro.com.  To request a free catalog, call 1-800-BASS PRO.  Follow us on Facebook at http://www.facebook.com/bassproshops.