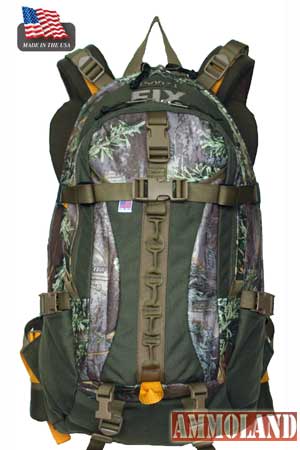 RealTree
COLUMBUS, Georgia –-(Ammoland.com)- Blacks Creek is excited to announce its entire line of products is now made in the USA.
After more than 10 years of overseas manufacturing, Blacks Creek, which was recently featured in the Idaho Press Tribune, now makes its bow cases, hunting packs and accessories in Caldwell, Idaho.
As a part of its new American-made lineup for 2014, Blacks Creek introduces the Fix, available in Realtree MAX-1. This hunting pack is big enough to carry all you need on a long-day in the mountains, yet small enough to seem as though you are carrying nothing at all.
The Fix hunting backpack sports the same butterfly harness as Blacks Creek workhorse packs, as well as the same wide comfortable waist belt.
You will be able to carry your fishing pole, tent poles or tent in the side pockets of this pack. Attach your sleeping back to the bottom and you've got enough gear for an overnighter on the hill.
Features:
1500 Cubic Inches
4lbs, 1oz
1000d Cordura and/or 3-layer Tricot Fabric
R7-2 waist belt
Military-grade hardware
YKK zippers
Butterfly harness
7 pockets
5 compression straps
About Realtree:
Realtree is the world's leading camouflage designer, marketer, and licensor with over 1,500 licensees utilizing the Realtree camouflage brand. Thousands of outdoor and lifestyle products are available in Realtree camouflage patterns. In addition, Realtree is committed to supporting individuals and groups that work to ensure our outdoor heritage, the conservation of natural places and the wildlife that resides there. In fact, Realtree is one of the nation's leading contributors to conservation groups such as Ducks Unlimited, the National Wild Turkey Federation, the Rocky Mountain Elk Foundation and others. Realtree promotes its products and relationships widely on Outdoor Channel and other television networks, as well as through Realtree.com and many other outlets. For more information, check out www.realtree.com.