Fayette, MO-(Ammoland.com)-— The new Mk4 T series rifles are CMMG's latest definition of versatility. With four different calibers and two different barrel types to choose from, the Mk4 T line-up has something for everyone.  Whether looking for your first AR, defending the homestead, planning that next hog hunt or just wanting a fun gun to have around – the Mk4 T has you covered.
The Mk4 T is available in four different calibers, including 5.56×45 NATO, .300 AAC Blackout, 9mm and .22 long rifle.  The 5.56mm and .300 BLK models are offered with either a 416 stainless or a nitrided 4140 CrMo steel barrel in a medium taper profile.  The 9mm and .22 LR versions come standard with the nitride 4140 CrMo M4 profile barrel.
The Mk4 T includes an RKM11 KeyMod free-floating hand guard with a 1913 Picatinny rail on top.  The KeyMod slots are found at the 3, 6 and 9 o'clock positions and offer shooters a low-profile mounting alternative to the M1913 Picatinny rail.  For accessories that are not yet KeyMod compatible, users can purchase a separate CMMG 5-slot Picatinny adapter rail that can be easily attached to any of the KeyMod slots for optimal placement of the accessories.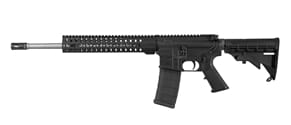 CMMG Mk4 T Specifications:
Caliber:  5.56x45mm NATO/.300 AAC Blackout/9mm/22 long rifle
Barrel:  16″ medium weight tapered profile (5.56mm, 300 BLK)
Muzzle:  A2 Comp., Threaded ½-28 (5.56mm, 22LR), ½-36 (9mm), 5/8-24 (300 BLK)
Hand Guard:  CMMG RKM11 KeyMod hand guard
Upper Receiver:  Forged 7075-T6 AL M4
Lower Receiver:  Forged 7075-T6 AL AR15
Trigger:  Single stage mil-spec style trigger
Furniture:  A2 pistol grip, M4 butt stock with 6-position mil-spec receiver extension
Weight: 6.3 pounds (unloaded)
Length: 32 inches (stock collapsed)
| | | | |
| --- | --- | --- | --- |
| PRODUCT | Barrel Type | Magazine | MSRP |
| Mk4 T 5.56mm | Bead Blasted 416 SS 1:7" Twist | 30-rd PMAG | $1,049.95 |
| Mk4 T 5.56mm SBN | Nitrided 4140 CrMo 1:7" Twist | 30-rd PMAG | $999.95 |
| Mk4 T .300 BLK | Bead Blasted 416 SS 1:7" Twist | 30-rd PMAG | $1,049.95 |
| Mk4 T .300 BLk SBN | Nitrided 4140 CrMo 1:7" Twist | 30-rd PMAG | $999.95 |
| Mk9 T 9mm | Nitrided 4140 CrMo 1:10" Twist | 32-rd | $1,149.95 |
| Mk9 T .22LR | Nitrided 4140 CrMo 1:16" Twist | 25-rd R3 | $899.95 |
CMMG Lifetime Quality Guarantee
CMMG, Inc. will guarantee its products against defects in material or workmanship.  CMMG, Inc. will repair, replace or substitute part(s) (at CMMG, Inc. discretion) at no charge to the customer if a defect of material or workmanship is found. All service work must be carried out by CMMG, Inc.
About CMMG:
CMMG began in central Missouri in 2002 and quickly developed into a full-time business because of its group of knowledgeable and passionate weapons enthusiasts committed to quality and service. Its reputation was built on attention to detail, cutting edge innovation and the superior craftsmanship that comes from sourcing all their own parts. By offering high quality AR rifles, parts and accessories, CMMG's commitment to top-quality products and professional service is as deep today as it was when we began.
For more information, please visit:
www.cmmginc.com.
https://www.facebook.com/CMMGInc
https://www.youtube.com/cmmg