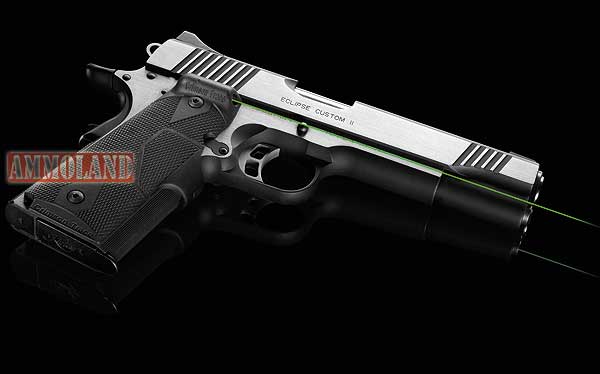 Wilsonville, OR – -(Ammoland.com)- With the recent anniversary of famed gun maker John M. Browning's birthday (January 23, 1855), it's a great occasion to re-examine one of his great masterpieces—the 1911 semi-automatic pistol.
The pistol is often noted as America's most popular handgun and is well documented for turning the advantage in favor of America's troops in times of war. Today, this popular pistol finds favor with shooters and collectors across America.
If you own, or are considering buying, a 1911 pistol, Crimson Trace makes many products that can help you customize it. One of Crimson Trace's newest products, the green Lasergrips (LG-401G), increases the company's 1911-centered products to nearly 30 items. These units include: Lasergrips, Lightguard, Laserguard, Pro-Custom and Master Series Lasergrips for the popular pistol. The Lasergrips are designed to replace the current grips of standard full-sized and compact versions of the 1911—and in some cases are upgrades.
The Crimson Trace laser sighting products can help you quickly aim and be more confident with your handgun shooting capabilities. In low light or total darkness, laser sights excel as an aiming aid.
The Crimson Trace Lightguard (LTG-701), when installed on a 1911, permits better pistol control because both shooter's hands can be kept on the firearm as the powerful bright 130-lumen LED white light shines ahead. This product eliminates holding a flashlight in one hand as you aim or search. Plus there's no fumbling in the dark to locate a flashlight when a situation suddenly begins.
If you are a fan of wooden grips, then Crimson Trace's Master Series offers rosewood, cocobolo (new LG-917 and LG-920), burlwood, walnut and other woods for your 1911. Most of these products feature the company's patented Instinctive Activation in the front so the laser sight is easy to engage. Crimson Trace's many products for the 1911 are easy to install—no gunsmithing required. These "upgrades" can also better prepare your pistol for self defense service and concealed carry applications.
Crimson Trace's mission is to enhance people's ability to protect family, home and country. Crimson Trace, based in Wilsonville, Oregon, is celebrating 20 years as a company in 2014. All Crimson Trace products are Made in the USA. Full details are at www.crimsontrace.com or by calling 800-442-2406.
ABOUT CRIMSON TRACE:
Crimson Trace, the acknowledged industry leader for laser sighting systems and tactical lighting for firearms, is based in Wilsonville, Oregon. Its award-winning innovations include Lasergrips, Laserguard and Lightguard –all with Instinctive Activation.The company's product line also includes the Defender Series and Rail Master platforms. Crimson Trace products are proudly Made in the USA. More details are available at: www.crimsontrace.com or by calling 800-442-2406