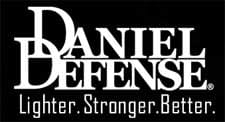 Black Creek, GA –  -(Ammoland.com)- Daniel Defense, engineering and manufacturing the world's finest weapons systems, precision rail systems and accessories, today announced plans for a five-year, $20 million expansion in Bryan County, Georgia.
"We are proud to be among the nation's fastest growing private companies according to Inc. 500|5000 Magazine," says Marty Daniel, President and CEO of Daniel Defense.

"Maintaining the level of growth we've experienced over the last 10 years requires a long term vision, continued momentum, while maintaining the level of quality expected by our customers."
At the conclusion of the 5-year, multi-million dollar expansion, Daniel Defense will have expanded to over 100,000 square feet of manufacturing and administrative space in Bryan County. "This is yet another step toward bringing every part of the manufacturing process in-house, which will in turn give us ultimate control over quality assurance," exclaimed Daniel.
Daniel Defense moved its operations to Bryan County in 2009 with the opening of its now 47,000 square foot facility. The long-term project would not be the first size increase for the Georgia-based company. They expanded operations to a 90,000 square foot facility in Ridgeland, South Carolina, in 2012.
With flourishing interest for the name brand precision firearms, parts and accessories, the planned increase will enable them to meet growing demand while maintaining a first-rate customer service experience.
About Daniel Defense
President and CEO, Marty Daniel founded Daniel Defense at the turn of the 21st century. From its humble beginnings as a start-up company, creating rails and accessories for the AR-15 platform in small batches, Daniel Defense has grown exponentially over the last decade, and is now known for its premium line of rifles and firearms accessories. Now with two locations and a combined 128,000 square feet of available manufacturing space, Daniel Defense looks forward to continued growth, as well as the opportunity to better serve their customers.
For more information, visit www.danieldefense.com.