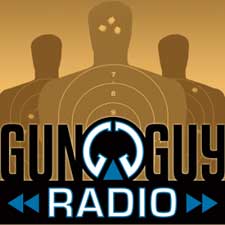 DeKalb, Illinois –-(Ammoland.com)- Giving new life to your firearms is the topic of this week's show.  Steve Waters and Rick Hastings of Liquid Transformations discuss with Jake the benefits of Cerakote, film dipping, and painting your gun.
Each method has its benefits and is best for particular applications. Steve and Rick discuss the pros and cons of each process as well as the options for having these colorful additions applied to your firearm.
Rick is dedicated to disassembly, cleaning and preparation, and reassembly of your firearm to ensure proper application and matching of the various component parts of the pistols, rifles and shotguns that Liquid Transformations can redo to your specific and custom specifications.
This week's Product Spotlight is the Brownell's BVL flashlights.  These lights are made to the highest quality, which allows excellent light output (160 and 280 lumens) but at a very competitive price.  The BVL lights come with red, blue and green filters for a variety of uses.
They have a one inch diameter tube so the BVL lights are compatible with most weapon light mounting systems.  The lights also come with a lanyard, rubber o-rings that serve as finger stops and a momentary on switch.  Five GGR listeners will take home a 280 lumen BVL light this month as part of the Brownell's Giveaway.  Enter the giveaway by subscribing to the GGR Newsletter at www.gunguyradio.com/winner.
GGR has stayed in the giving spirit even after the holiday season.  GGR will be giving away a Bond Arms Back Up in .45 ACP.  To enter, provide a gun or gear review to the Firearms Insider before April 30, 2014.  Every new review is another entry.  All reviews should be submitted at http://firearmsinsider.tv/submit/.
The National Shooting Sports Foundation's SHOT Show begins on January 14, 2014 and the Firearms Radio Network will be there in force.  During the SHOT Show, GGR and other shows across the Firearms Radio Network will be putting out as much video and print content as possible through http://firearmsinsider.tv/shotshow/.  Many of the FRN personalities will be on location in Las Vegas, Nevada for the entire show. FRN will have an unprecedented amount of content, from range day to product launches to industry insider interviews.
Gun Guy Radio welcomes LA Police Gear as a new sponsor to the show.  LAPG will be offering GGR listeners a special discount through the month of January.  Enter gunguy in the promo code box at checkout or visit www.gunguyradio.com/101 for details on how to redeem your discount.
Listen to this episode at www.gunguyradio.com/101/ or subscribe to the show on iTunes to listen to any of the ninety nine prior episodes.  Visit the Firearms Insider Community at www.firearmsinsider.tv.
About Gun Guy Radio:
Gun Guy Radio is an on demand talk show that stays positive and leaves out the politics. The podcast features a variety of popular guests that cover a wide range of topics that firearms enthusiasts crave. Each episode delivers entertainment, education and encouragement that expands firearm ownership and knowledge to the current and next generations. Gun Guy Radio is found on the Firearms Radio Network and releases every Sunday at 12:00 pm central time. Subscribe to the email list and listen via Apple iTunes, Stitcher Radio or www.gunguyradio.com.
Contact:
Jake Challand
President
Firearms Radio Network
Email: [email protected]
Web:  firearmsradio.tv
Images courtesy of Liquid Transformations