Happy New Year!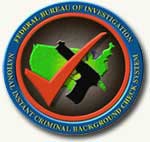 Washington, DC – -(Ammoland.com)- The FBI NICS Section is kicking off 2014 with some improvements to the NICS E-Check 2.0, some of which were developed based upon ideas and feedback from you, the FFLs that we serve. On January 14, 2014, the following enhancements will be added to the NICS E-Check 2.0:
1. A message will be displayed on NICS E-Check counting down the number of days until your user password expires. By changing your password before expiration, you will ensure that you have no break in service or access.
2. The FFL ID, address and user ID will be displayed on the NICS E-Check user interface. This will be particularly beneficial to those employees who work at various locations. By having this information displayed, a user can ensure he/she is logged in under the appropriate store.
3. When changing your password through "Account Settings" and an error message is returned to advise that an incorrect password has been entered, the error message will be more descriptive about what the issue is. By having more detail, E-Check users can better diagnosis and correct the problem.
4. For corporate users, a link will be provided to allow for easy transitions to secondary accounts. A user will no longer be required to exit E-Check to log into another account. This will be an advantageous time-saver for those corporate level employees monitoring activity in various stores.
If you are not a current user of the NICS E-Check, please consider enrolling today. The NICS E-Check allows you to conduct firearm background checks over the internet and provides many benefits that FFLs do not receive from the NICS Contracted Call Centers. On average, even during peak volume times, the NICS E-Check processes NICS checks with an average wait time of less than two minutes once the transaction is initiated.
To learn more about the NICS E-Check 2.0 and/or to enroll, please visit the NICS E-Check web site at www.nicsezcheckfbi.gov. You can also contact the NICS E-Check staff at 1-877-FBI-NICS (324-6427), option 2, then option 5.
Thank you & Have a Wonderful Weekend!