Chapter to use locally raised funds to increase upland habitat and engage youth in the outdoors.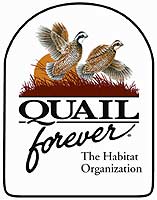 Nashville, Tenn. –-(Ammoland.com)- Lincoln County, Mo. –-(Ammoland.com)- January 9 –Avid quail hunters recently started Missouri's newest Quail Forever (QF) chapter in Lincoln County, located 30 miles northwest of St. Louis.
The chapter will focus on habitat development projects in an effort to increase quail and other upland populations in the state.
"This chapter is ready to hit the ground running," said John Wallace, Quail Forever's regional representative, "Their passion for the outdoors and the upland hunting tradition is matched only by their ambition and experience."

The chapter is led by newly elected president Sinjin Hussey. Hussey is a native Oklahoman who was raised in the outdoor-oriented family, and often hunted quail on his grandfather's farm. At an early age, Hussey moved to Lincoln County with his family, and since then, continued his passion for the outdoors hunting upland birds and waterfowl. This past year, he was happy to hunt behind his first dog, a 10-month-old German shorthair pointer, who Hussey says, "went above and beyond all of his expectations."
A passionate outdoorsman and conservationist, Hussey hopes to educate the community on local wildlife habitat concerns and involve them in the chapter's habitat improvement efforts. The chapter will accomplish these improvements through the use of Quail Forever's local model which empowers chapters with the responsibility to determine how 100% of their locally raised conservation funds will be spent. Additionally, the chapter hopes to partner with The Missouri Department of Conservation to improve upland habitat throughout the state.
"Our main goal is to get kids outdoors and away from the Xboxes and computers," said Hussey. He stressed all youth should have the opportunity to experience the outdoors, noting, "The future of our hunting traditions, including the wild places we love and cherish, depend on it."
Other elected chapter officers include Kevin Smith who will serve as chapter treasurer, Eric Merritt who will serve as habitat chair, and lastly, Skyler Hussey who will serve as youth/education chair. The next chapter meeting is scheduled for January 9 at 6:30 PM at Chihuahua's Mexican Restaurant in Troy, Missouri. There, the chapter will plan a spring fishing derby and organize a fundraising banquet to be held in August.
The Lincoln County Quail Forever chapter is actively looking for volunteers. For more information, please contact Sinjin Hussey at (636) 299-3567 or by email at [email protected] For more information regarding Quail Forever in Missouri, please contact John Wallace at (937) 459-8085 or [email protected]
Pheasants Forever, including its quail conservation division, Quail Forever, is the nation's largest nonprofit organization dedicated to upland habitat conservation. Pheasants Forever and Quail Forever have more than 140,000 members and 745 local chapters across the United States and Canada. Chapters are empowered to determine how 100 percent of their locally raised conservation funds are spent, the only national conservation organization that operates through this truly grassroots structure.
Quail Forever is dedicated to the conservation of quail, pheasants and other wildlife through habitat improvements, public awareness, education and land management policies and programs.