Obsolete Arms and Ammo
By Bob Shell
Apache Junction, AZ –-(Ammoland.com)- In the 1890's smokeless powder was catching on and was being used in sporting rounds as well as in the military.
The Winchester model 94 came out and was offered in a few chamberings including the 25-35, 32 Win special and the 38-55.
For the most part these rounds fell by the wayside but the 30-30 which came out in 1895 is still popular today.
For someone who isn't familiar with the 30-30 or a lever action rifle they might wonder why it is still around.
The best reason I can think of is that it works. If it is used as intended on deer and similar size game, they will continue to be harvested by this ancient round. The lever action rifle in the 30-30 will continues to harvest more deer then practically anything else available.
Many millions of lever action rifles have been produced since the 30-30 came out. Winchester, Marlin, and Savage have and still produce the lever models. Mossberg who has produced many quality guns at reasonable prices now offers their version of the 30-30 lever action rifle. At first glance, it resembles the Winchester model 94 of years past.
Unfortunately, Winchester decided to price their lever rifle beyond the price that a hunter would expect to pay for a utility rifle. I am not sure as to why they did that but the Mossberg will fill the gap very nicely.
Like the 94, it is light and handy to carry which makes it lighter then a Marlin in 30-30. Both are great guns and it would be a matter of personal choice as to which one you would select. My idea of a lever action 30-30 is a working person's rifle, which has been true for generations. It should be affordable for the average working class person, which the Mossberg is. I had a 13 year old who is small for his size shoot it and he fell in love with it. He has no problem with the weight or recoil. He has made suggestions about something under the Christmas tree for him. For more info on Mossberg you can go to  www.mossberg.com
The Mossberg is a good looking rifle with decent checkering and bluing. The fit from wood to metal is ok and it has a thin rubber butt pad. Actually it is a good looking gun. For the price, the cosmetics are entirely adequate.
Like many Mossberg products, it has a safety behind the tang that when the red dot shows it is ready to fire. It resembles the safety on the famous model 500 shotgun. With the safety on the hammer still falls but doesn't contact the firing pin.
I don't see the need for a safety on this type of gun but we have to be politically correct and lawyer proof.
It has adjustable sights, which will be adequate for woods ranges. I would touch them up a little to be able to pick them up easier in low light. It is drilled and tapped for a scope but no mounts are offered with the gun which is an inconvenience as for a couple of dollars they could be included. The gun ejects through the top so a side mounted scope may be more desirable however the receiver isn't tapped for a side mount so that might be an issue for some folks. The lever has to be held closed in order to fire which might be some sort of safety feature but I don't see the need for that. The lever stays open about 3/8" unless you manually close it all the way. It may be a way to make sure that you have a proper grip on the rifle prior to firing it. The trigger has a lot of travel and is somewhat mushy but not excessively heavy but it seemed to improve after some shooting. The gun is light which is very important to me, as I am not that mobile anymore. It comes up nice for a rapid shot and if you can pick up the sights then you have a good woods rifle, as the shots are frequently quick and at close ranges. This type of hunting is where the Mossberg should shine. They also offer the model 464 with a black stock and other features that make it more modern looking so that is an option for someone who is into black rifles and likes the lever models.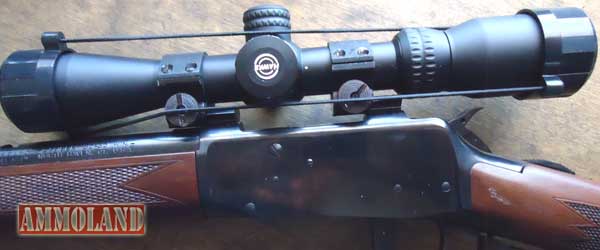 I received a Hawke scope model HK 3030 ( http://tiny.cc/hyc59w ) that is 2 X 7 X 32. Other features include a dual reticle and red and blue lit reticle which is adjustable for light and color. The compact scope should work well on the Mossberg but do to the top ejection there is a problem there. The optics are very clear a feature I always get with the Hawke scopes. Possibly later on I may have it drilled for a side mount.  A range session verified my concerns about the top mount. The empties just hit the scope and fell back into the action. On the other hand the Hawke performed well from 25 to 300 yards.  Since part of my testing used the Hornady flex tip we shot at the 300 yard target and seeing it was easy with the Hawke scope set at 7 X.  With that bullet and a good scope the 30-30 is a legit 250 to a 300 yard deer gun. The parallax was easy to set at all ranges and the clarity is excellent.  Once I get the proper mount, it will be a permanent fixture on this rifle.   For more info on these fine products you can go to www.hawkeoptics.com
Another advantage to having this model is the chambering. The 30-30 has been around for 118 years as of this writing and shows no signs of going away. Everyone who makes ammo has at least one loading in the 30-30 round. In spite of its pedestrian velocities, it works well on deer, black bear, and pigs not to mention other similar game. Handloading produces great small game and practice loads. Ammo isn't real expensive and most gun stores carry it. Most loads feature a 150 or 170 grain flat nose soft point, which is entirely usable for deer size game at a hundred yards or so.
Like many other older chamberings new bullets and powder have improved the performance of this old round.
Hornady offers a 160 grain flex tip which extends the range quite a bit due to the point. In the hands of a good shot, ranges can realistically be extended to 250 yards. Most knowledgeable hunters feel that it takes 1,000 Ft LBS. of energy to reliably anchor a deer and the flex tip can produce that out to 300 yards. Of course you still have to hit him well to produce good results. Barnes offers a lead free bullet for tougher game if desired.
Some of the new powders such as Hodgdon's LEVERevolution powders can safely increase velocity a real benefit with the flex tip bullet. Since the recoil isn't bad most youngsters and women should be able to handle this rifle.  So the old 30-30 gets a new facelift making it more flexible and potent for big game hunting.
Cast bullets?   You bet!!!!   So you have a nice hunting package for a reasonable price.  I have been using Hodgdon's HS-6 for cast bullets in various rifles and have found it to be a useful propellant for that purpose. The Mossberg does well with cast bullets at reduced velocities making it a nice small game load.   I use a lot of Hodgdon's powders in my reloading because they work so well also they have an online loading manual which is quite handy for someone looking for loading data. For info you can go to  www.hodgdon.com/hodgdon.html
The proof of course is in the shooting. There is a great selection of ammo and bullets so we are looking for accuracy and reliability of this rifle. I have shot a lot of 30-30'S in a variety of guns and action types. Those include single shots and bolt actions besides various brands of levers. I have found that a good rifle with a scope can produce 1" groups at 100 yards with 3 shots. Your lighter guns will go into about 2" at the same range which is more then adequate for its intended purposes. Careful load development can shrink groups somewhat but it isn't needed for woods hunting. Since we have a tubular magazine other then Flex Tips no other pointed bullets will be used. 
I have used bullets as heavy as 220 grs in a strong single shot but I don't recommend them in a typical lever action. I did however swage down some 180 gr Remingtons meant for the 303 British to .308 in diameter. If you were contemplating hunting a large black bear or boar the 180 grain, round nose would be something to consider. Of course, you would have to handload that slug. As we are, aware components can be hard to come by because of the demand. The nice thing about the Mossberg rifle in 30-30 is it isn't fussy. I tried the brands listed plus others such as the Speer and Winchester everything shot well enough to be usable for its intended purpose. Unlike some of the more modern rounds especially the magnums it isn't hard to cook up a good recipe. I can get groups in the area of 1½" to 2" at 100 yards with a good rest and taking my time. One of the rests that I used wasn't comfortable and I feel that it made my groups somewhat larger.
Hornady sent me two types of ammo for testing and some flex tip bullets for reloading. The factory ammo is the 160 grain Flex Tip and the 150 grain White Tail bullet which is the basic load. I have shot the Hornady basic ammo in the past and it always is accurate and consistent. The bullet is a basic cup and core design which has worked well for meny years. For info on Hornady's extensive line of shooting products you can go to www.hornady.com
I received some Barnes lead free which will make the 30-30 a better black bear round and will be legal for any lead free areas. For more info on the lineup of Barnes hunting bullets you can go to  www.barnesbullets.com/   I also shot some of their factory ammo and it performed well which is good news for the non handloader. In addition, California recently passed a law requiring lead free bullets for hunting statewide so you are in luck if you use a 30-30. I would expect that some other states will follow suit.  Never mind that lead bullets don't harm the environment as stated. The purpose is a form of harassment by anti-hunters as the copper bullets are more expensive and harder to get. The joke might be on them because the Barnes bullets are very effective hunting slugs.  In addition, other makers are making copper bullets so they will become more available as time goes by.
Berry bullets which are copper plated are ok for reduced loads but are not accurate with full power loads. Probably somewhere between 15 and 1800 FPS is the velocity limit for accuracy depending on the rifle being used. The same is true with cast bullets. Both should be used for small game and target loads.
I also received some 150 grain Sierra flat tip bullets and as have found they were very accurate in this weapon. I have used Sierra bullets of all calibers and they always produce good accuracy. The 150 and 170 grain bullets would be an ideal deer load. For info on Sierra bullets you can go to  www.sierrabullets.com/
LOAD                                        BULLET                                        VELOCITY                          COMMENT
10 gr HS-6                               118 gr cast                                1533                                   consistent
12 X HS-6                                150 gr Berry                              1571                                    nice load
35 X WC 844                         150 gr Berry                              2361                                    not accurate
35 X WC 844                         150 gr Winchester                    2350                                    ok
35 X WC 844                         150 grain Sierra                         2389                                   decent load
Barnes                                     150 grain TSX FN                       2389                                good load
Hornady                                  150 grain AM Whitetail           2311                               very consistent
Hornady                                 160 grain Flex Tip                     2239                                 consistent
8 gr of HS-6                            165 gr cast                                1188                                   nice
32 X WC 844                         180 gr RN                                  2107                                  bear
As with most new guns, it was tight until we put some rounds through it. After about 75 rounds it started to loosen up which made it that much easier to shoot and cycle. The trigger pull isn't too bad and it seemed to improve a little after some shooting. Offhand shooting didn't prove to be a problem due to balance and light weight. Hitting targets out to 100 yards isn't too hard though you have to look for the front sight a little. A little orange should cure that. There were no jams or any other malfunctions that could attributed to the gun. I had some 118 grain cast bullets that didn't feed but they are way too short so the gun can't be blamed for that problem.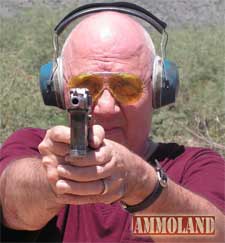 The balance is great for carrying especially without a scope. As good as the gun is I have two complaints. First I don't like the safety.  I realize that it is a liability issue but for practical purposes, I just don't have any use for it. In addition, I wish Mossberg would supply the correct mounts and rings at least as an option. Yes, I know that it will boost the cost a few dollars but it would be convenient for the consumer besides in most cases they will go out and buy that equipment anyway. Why not buy it from Mossberg?
The 30-30 has been around for generations and I expect that as long as there is hunting it will always be in the mix. This particular gun will be used in my deer hunting on various occasions as I have complete trust in it.
About Bob Shell
A Custom Reloader of Obsolete and Antique Ammo, Bob Shell, writes about the subject of Guns, Ammo, Shooting and Related Subjects. Visit: www.bobshellsblog.blogspot.com