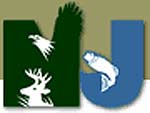 Trenton, NJ –-(Ammoland.com)- The NJDEP Division of Fish and Wildlife has posted harvest data from the 2012 NJ black bear hunting season. The data includes the date of harvest and the age, sex, and weight of bears collected by biologists at official bear check stations.
Hunters who harvested a bear in 2012 can find the information for their bear using the number of the possession seal they were issued. To view the data go to
http://www.njfishandwildlife.com/bearseas12_data.htm on the Division's website.
The 2012 Black Bear Hunting Season, held December 3-8, 2012, resulted in a total legal harvest of 287 black bears. The season was held concurrently with the 6-Day Firearm Deer Season and was open in the area north of Rt. I-78 and west of Rt. I-287.
Hunters were required to check all harvested bears at check stations staffed by Division of Fish and Wildlife personnel. Data, including sex, weight and size were collected, and a tooth was extracted for aging by Matson's Lab, a wildlife laboratory offering cementum (tooth) aging.
The document linked below provides information on harvested bears. The bears are listed according to the number on the Possession Seal attached to each bear's ear at the check station. The seal numbers are listed numerically.
2012 Black Bear Harvest Data (pdf, 47kb)
For more information on the black bear hunting season in New Jersey, visit the Black Bear Season Information page; for information on black bears in the state, visit the Know the Bear Facts page.