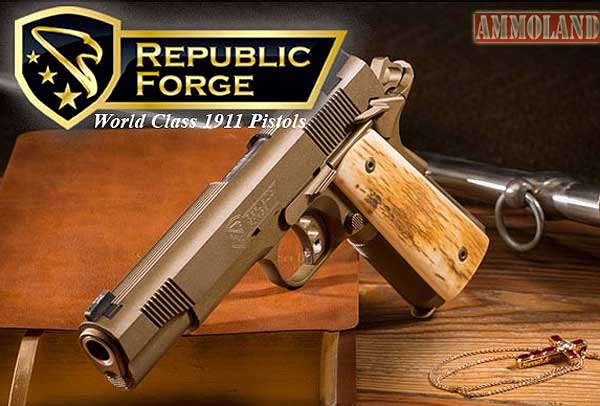 Perryton, TX –-(Ammoland.com)-  Republic Forge has begun production and distribution of a complete line of custom Model 1911 pistols.  Republic Forge is American owned and its products are truly 100% made in the USA!
Each Republic Forge pistol is hand-crafted from start to finish by one gunsmith, one gun at a time! Stay tuned for exciting new product launches throughout 2014!
Located in the great Republic of Texas, Republic Forge was founded with one simple goal in mind: to create world-class, American made custom Model 1911 pistols.
 "At Republic Forge, quality is our number one priority and our craftsmanship is second to none," said Benny Deal, President, Republic Forge.

"We have invested in a state-of-the-art production facility along with the best talent, machinery and the finest materials available.  Our craftsmen, led by master gunsmith Jeff Meister, combine the perfect blend of old world craftsmanship with cutting edge technology, resulting in a product that the most discriminating shooter will be proud to own!"
Whether for personal protection, law enforcement, competition or collectors of fine firearms; Republic Forge offers the ultimate handgun for any application. Each Republic Forge 1911 begins with premium steel frames and slides. These are hand-fitted and mated to the finest quality barrels and components available. From springs to triggers and grip panels, attention to detail remains paramount in every aspect of production. This results in an heirloom-quality handgun that delivers superior accuracy and extreme durability for a lifetime of use. Every Republic Forge 1911 is function tested and fired for accuracy. The final product is delivered with a quality assurance check-list, target and signature of the master gunsmith! Republic Forge pistols are backed by a limited lifetime warranty for the original purchaser.
Initial product offerings will consist of  Government, Commander, Recon and Officer models featuring custom Cerakote finishes and chambered in .45ACP, 10mm, 40S&W, 38 Super and 9mm, followed by continual new product launches throughout 2014.
Republic Forge has created a website that's designed with the end-user in mind. Purchasing a custom firearm is no small matter and Republic Forge makes the selection and customization process quick and easy with simple navigation, detailed product information and interactive tools to help users determine specific product options based on their individual requirements for a wide range of applications.
Republic Forge will attend the SHOT Show Industry Days at the Range® and we welcome all attendees to visit their shooting station for a hands-on demonstration of their superior, custom model 1911s.  A test and evaluation program is in place for members of the professional media with confirmed assignments.  All media inquiries should be directed to Driftwood Media, Inc.
About Republic Forge
Republic Forge, manufacturer of World Class custom Model 1911 pistols delivers a unique blend of cutting-edge technology and custom craftsmanship. Our pistols are made by Americans, For the Republic. For more information on the company's World-Class Model 1911s, contact Republic Forge at P.O. Box 774, 820 S. Industrial, Perryton, TX 79070 • Telephone: 806-648-1911 • or visit www.republicforge.com.