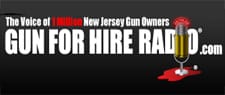 Belleville, NJ –-(Ammoland.com)- Hello My Fellow Supporters!
The NRA Ballot's will be mailed in a week or so. Please remember to Vote Anthony P Colandro for NRA and please if possible just Bullet vote for me!
Here is the Colandro For NRA link for you to post on forums, email to other supporters, etc. https://gunforhire.com/colandro-for-nra/
Again I thank you for you support and trust.
STAND STRONG
ANTHONY P COLANDRO
Challenge Coin # 1
CEO & Capitalist Marksman
GUN FOR HiRE
America's Urban Defense Institute since 1992
Phone: 888-Gun-For-Hire (486-3674)
Web: www.gunforhire.com
GUN FOR HiRE New 5 Star Range!
> 1267 McBride Avenue, Woodland Park, NJ 07424
> 19 Indoor Ports (13 25-Yard Ports, 6 50-Yard Ports)
> Indoor Cafe
> Plenty of Parking
GUN FOR HiRE Radio
Have you listened to Gun For Hire Radio New Jerseys First and only Pro-Gun show?
And it is free! www.gunforhireradio.com The Voice of 1Million NJ gun owners!
GUN FOR HiRE App
Improve your shooting with the GFH app – https://tiny.cc/tn1k9w
Also available for Droid – https://tiny.cc/9m1k9w
GUN FOR HiRE Locations:
NEW GFH Headquarters: 1267 McBride Avenue, Woodland Park, NJ 07424
GFH SORA / SECURITY TRAINING: 75 Rutgers Street, Belleville, NJ 07109
About:
Gun For Hire Radio-the Voice of 1-Million New Jersey Gun Owners, is the Number-One rated talk show in the Nation. News, commentary, entertainment and education you won't hear anywhere else. Listen, learn and laugh you're ass off. Visit: www.gunforhireradio.com