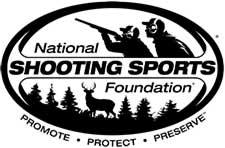 Washington, DC –-(Ammoland.com)- The Bureau of Alcohol, Tobacco, Firearms and Explosives (ATF) on Friday published a new Final Rule that, effective April 8, 2014, extends the standard term of import permits for firearms, ammunition and defense articles from one year to two years.
The additional time will allow importers sufficient time to complete the importation of the authorized commodity.
In addition, it will eliminate the need for the importer to submit a new import application, ATF Form 6, where the importation was not completed within the one-year period.
NSSF supported this change because it will significantly benefit both ATF and U.S. importers without reducing ATF's ability to administer the 27 CFR part 447 regulations and to ensure that importers are in compliance with the law.
About NSSF  The National Shooting Sports Foundation is the trade association for the firearms industry. Its mission is to promote, protect and preserve hunting and the shooting sports. Formed in 1961, NSSF has a membership of more than 6,000 manufacturers, distributors, firearms retailers, shooting ranges, sportsmen's organizations and publishers. For more information, log on to www.nssf.org.