USA –-(Ammoland.com)- Crow Shooting Supply is pleased to announce it has added Walther Arms to its expanding list of firearm offerings. Crow is stocking Walther's full line of pistols and rimfire rifles.
Crow currently has good stocks of the iconic Walther PPK, and their more recent and very well-regarded polymer pistols, the PPQ and the smaller, carry-sized PPS.
"We're extremely happy to add such a well-respected brand to our lineup," said Steve Crow, Founder of Crow Shooting Supply.

"Walther's pistols have a great design, and their Tactical Rimfire products bring a good balance to our selection of firearms."
In addition to its semi-automatic pistols, Walther has an extensive line of semi-auto, full-size, .22 LR versions of famous military firearms, including the Uzi, HK MP5, HK 416, and Colt M4 carbine and 1911 auto.
To place an order for any of Walther's trusted firearms, contact the Crow Shooting Supply sales team at 800-264-2493 or visit crowshootingsupply.com.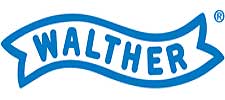 About Walther
Walther has been making guns for almost 130 years, and has been known throughout the world since Carl Walther and his son Fritz revealed their first semi-automatic pistol design in 1908.  Walther developed many famous designs, including the PP, the PPK and the P-38. In June 1999, Walther Arms began distributing Walther-branded firearms with Smith & Wesson, and in 2013, Walther Arms, Inc. moved to a corporate campus in Fort Smith, Arkansas.
About Crow Shooting Supply
Crow Shooting Supply is a family-owned national wholesale distributor of firearms, ammunition reloading components and shooting accessories. Proudly serving retail gun shops, major sporting goods stores, gun clubs, shooting ranges and government agencies for 30 years, Crow is a full-line supplier of nearly 100 of the world's premier shooting industry manufacturers. For more information, or to inquire about partnering with Crow Shooting Supply, call 800-264-2493 or visit www.crowshootingsupply.com.