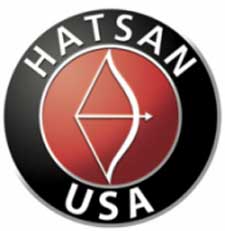 USA –-(Ammoland.com)- If the belief that "airguns are nothing more than a novelty with no real power" is still held by any of today's shooters, then the BT65 from HatsanUSA Inc. is sure to change their minds.
This finely crafted bolt action pre-charged pneumatic (PCP) air rifle is the most powerful airgun available from HatsanUSA Inc. – firing high-density lead pellets at velocities as high as 1250fps.
Although other airgun manufacturers may claim a greater velocity, their power and accuracy are simply unmatched by the BT65. Airguns from HatsanUSA Inc. are rated with high-density lead pellets that they were designed to shoot instead of lightweight alloy aluminum pellets that their competitors use for testing. Although the perceived muzzle velocity is lowered, accuracy and energy upon impact are greatly increased.
Power and accuracy aren't the only things that set the BT65 apart from other airguns on the market. Like all airguns from HatsanUSA. Inc., nearly all of the components that make up the BT65 are made in-house by the Turkish manufacturer. This includes a precision-rifled barrel made from high-quality German steel, the fully adjustable two-stage Quattro trigger and each of the airguns' three stock options.
The BT65 is available with an elegant Turkish walnut stock or black synthetic stock with a single Picatinny rail. There is also an Elite model that features a synthetic tactical-style stock with three Picatinny rails and two additional magazines and includes a free hard case. Each stock option has a fully adjustable length of pull, elevation and fit angle and is available in .177cal (1250fps), .22.cal (1180fps), and .25cal (1090fps).
Each BT65 model features an anti-double pellet feed mechanism and Hatsan's patented Anti-Knock System that prevents gas wastage when the rifle is knocked or bounced. They are also fitted with a dovetail-grooved receiver for both 11mm and 22mm scope mounts and micro-adjustable rear and front sites with Truglo fiber optics.
BT65-S10: https://tiny.cc/8ia6ax
Side bolt action pre-charged pneumatic (PCP)
Available in .177cal (1250fps), .22cal (1180fps), and .25cal (1090fps)
Precision rifled barrel for accuracy
Fully adjustable 2-stage Quattro Trigger
Micro adjustable rear and front sight with TRUGLO® fiber optics
Auto/Manual safety
Fully adjustable elevation comb, stock length pull, and fit angle
Detachable 10-shot rotary magazine in .177 and .22 calibers and 9-shot rotary magazine in .25 caliber
Detachable air cylinder with easy read pressure gauge – 200 Bar (3000 PSI)
Anti-double pellet feed mechanism
Patented Anti-Knock System
Dovetail groove receiver for 11mm and 22mm scope mounts
Ambidextrous design
Includes quick-fill nozzle and air cylinder cap, additional magazine and shoulder sling
BT65-ELITE: https://tiny.cc/5ha6ax
Side bolt action pre-charged pneumatic (PCP)
Available in .177cal (1250fps), .22cal (1180fps), and .25cal (1090fps)
Precision rifled barrel for accuracy
Fully adjustable 2-stage Quattro Trigger
Micro adjustable rear and front sight with TRUGLO® fiber optics
Auto/Manual safety
Fully adjustable elevation comb, stock length pull, and fit angle
Detachable 10-shot rotary magazine in .177 and .22 calibers and 9-shot rotary magazine in .25 caliber
Detachable air cylinder with easy read pressure gauge – 200 Bar (3000 PSI)
Anti-double pellet feed mechanism
Patented Anti-Knock System
Dovetail groove receiver for 11mm and 22mm scope mounts
Ambidextrous design
Three (3) Picatinny rails
Rubber inlays with checkering grip for better control and feel
Spare magazine carrying slots and two (2) additional magazines
Includes quick-fill nozzle and air cylinder cap, additional magazine and shoulder sling
Free hard carrying case included
About HatsanUSA Inc.:
HatsanUSA Inc. gives U.S. customers the first opportunity to purchase Hatsan airguns, known and respected throughout the world for their premium Turkish craftsmanship, quality, and hard-hitting performance direct from Turkey. www.hatsanusa.com or www.facebook.com/HatsanUSA