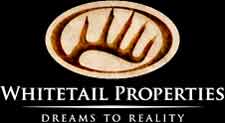 Pike County, Ill. –-(Ammoland.com)- On March 1, 2014 Whitetail Properties and Realtree are calling all hunters to participate in the first-ever #ShedRally – the world's largest shed hunt.
Want to find more sheds? WATCH THE VIDEO BELOW.
Anyone can participate in the #ShedRally, even if you've never looked for shed antlers before.
All you have to do is get outside with family and friends and look for sheds on March 1. While you're enjoying your shed hunt, upload creative photos to Facebook, Twitter and Instagram and use the hashtag #ShedRally.
We'll judge all the photos and pick the best ones. You could win cool hunting gear from Whitetail Properties, Realtree, Scent-Lok and Tenzing! Follow Whitetail Properties on Twitter and Instagram or at Facebook.com/WhitetailProperties for more.
It's the #ShedRally – the world's largest shed hunt. The hunt begins on March 1st 2014.
About
Headquartered in Pike County, Ill., Whitetail Properties is an agricultural and recreational real estate company that offers its services throughout the Midwest, Kentucky, Tennessee and Texas.
Whitetail Properties staffs a select team of specialists who are the most skilled, knowledgeable, honest and hard-working real estate agents in the country. In order to reach the greatest number of potential land buyers and sellers, the company utilizes a national marketing campaign highlighted by an industry-leading website and the highly rated award-winning show, Whitetail Properties TV, which airs on the Sportsman Channel in more than 50,000,000 households. Quickly access information and services offered from the Land Specialists at www.whitetailproperties.com.